Hue beef noodle – the typical culinary art of Hue!

In Hue city, the former citadel of Vietnam, it doesn't take you a lot of money to dine like a King!
Hue beef noodle takes its origin from the Royal Hue City of Central Vietnam. The broth is from cooking beef bones for a long period of time as well as a variety of different spices including lemongrass.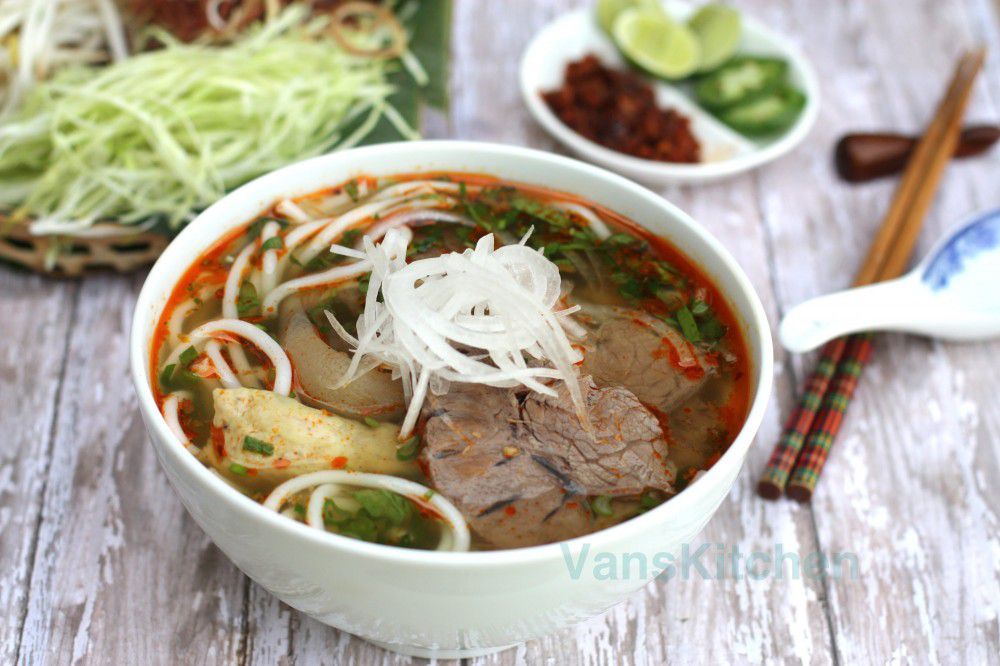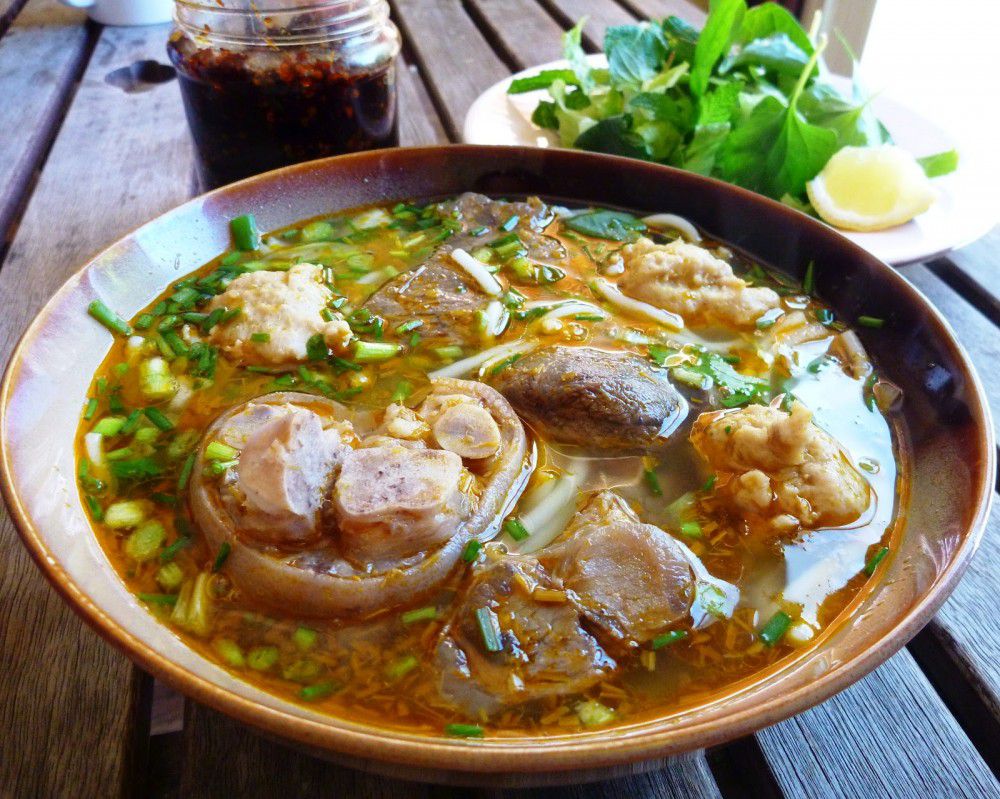 How does it taste? Well, having a bowl of Hue beef noodle, you will easily recognize that it is completely different from Pho since the former's beef broth is much more spicy.
How to make it? Learning how to make a clear broth from bone and meat is quite a difficult task. After being selected from the market, the fresh beef will be shredded, boiled and taken out of the water to obtain a delicious clear broth. A typical version of Hue beef noodle must include pork, roast beef, pig's blood, Vietnamese salami, Hue's style salami, shrimp sauce and chopped lettuce.
The interesting thing is that, the amount of salt put in the beef noodle recipe varies between seasons. For example, during summer, Hue beef noodle soup is served with soy bean, mint and different kinds of lettuce while in the winter, the recipe is saltier added with lemongrass and fish.
The best Hue beef noodle comes from the street vendors who work from dawn to early morning. In Hue, when night lights are on, you can enjoy a good bowl of this noodle soup at restaurants in front of No. 84 Mai Thuc Loan Street. This hot dish represents just a few of the treasures of Hue's traditional cuisine. Clam-rice and the flour pies like beo (streamed flour cupcakes), nam (wrapped shrimp pies) and loc (tapioca and shrimp pies), for examples, are part of the ancient capital's culinary heritage.
Where to have Hue's beef noodle in Ha Noi?
You are in Hanoi, and wondering if such a Hue's specialty appears in Hanoi or not. Don't worry, Hue beef noodle come up quite often in many streets of Hanoi from morning till night. It's better to ask your hotel to recommend a place nearby or you can refer to the following reliable addresses:
No. 4 Ly Thuong Kiet Street, Hanoi
No.467 Đoi Can Street, Hanoi
No.7 Thai Phien Street, Hanoi
No.22 Phan Boi Chau Street, Hanoi
No.175 Lang Ha Street, Hanoi
No.G23 Huynh Thuc Khang Street, Hanoi