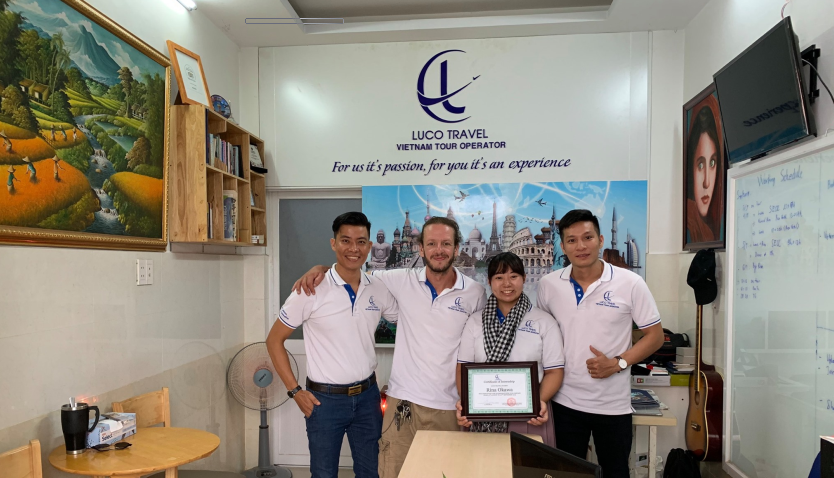 The Luco Travel - Vietnam Tour Operator was formed in 2017. We are an independent Destination Management Company based in Ho Chi Minh City, Vietnam. As specialists, we offer great discounts on hundreds of hotels and a whole host of services such as airport transfers, exciting packages, tours, event planning and great value entertainments.
Our mission is to make travel a rewarding experience by combining an unbeatable mix of exceptional quality service at a great value.
Our truly international team speaks languages including English, Vietnamese, French, German, Malayu, Italian, Arabic, Spanish, Russian, Hindi. The local knowledge of our offices combined with the muscle of our network enables us to guarantee efficient, high quality service at competitive prices.
So…whether you are looking for a MICE, Private Tours, an Educational Tours, Group Tours or Incentive Travel, Luxurious Services, Corporate Hotel Booking, Airport Transfer, we can offer the ideal solution for your travel.
With our local knowledge of Vietnam we can provide unrivalled and personalised service within these regions, you never have to worry about "Asking the Locals" because you are with the locals. We will accompany you on a journey to the most beautiful places of Vietnam to enjoy the country's historical and cultural heritage as well as its wonderful landscapes and natural beauty. We are committed to give you the most memorable travel experience and discovery of the local culture and population, with customized trips that best suit your needs and expectations.
Our highest priority is making sure that overseas visitors take home an unforgettable Vietnam experience. To showcase the best that Vietnam has to offer, our trip-planning experts create itineraries and programs that not only reflect clients' needs but also highlight the beauty of the Vietnamese landscape and culture.
Our expertise and thorough, dependable service ensure that visitors will have a memorable and enjoyable trip whether for business, sightseeing, or both. At Luco Travel - Vietnam Tour Operator, we value authenticity and sharing our passion with you while providing you with the best posible quality of services.
We believe that our services will meet your expectations and provide you or your clients with unforgettable memories and event success. Contact us today and experience the difference!
---
---
Meet Luco Travel's Team
Have a good day, I'm Louis. I founded Luco Travel - Vietnam Tour Operator for more than four years, base on a strong will of providing high quality services and to show the best of Vietnam has to offer to the rest of the world. Since then, the dynamic team and I have been working hard, working creatively and seriously to bring the best trip ever to you and your family once you travel to our region. It has a lot, the unveil areas that await your discovery and travel. See you one day soon!
Jin Nguyen - Managing Director
Xin Chào, I'm Jin, The Specialization is Educationsl Tours & Teambuilding. I am working at Luco Travel - Vietnam Tour Operator as a senior travel consultant where provides me such a great environment to express my knowledge, ideas and share my experiences. With almost 07 years of working experience in the tourism industry, my dream is to bring unique findings to everyone going on a trip with us and making clients satisfied will be the biggest success of my job, which making us inspirational and contributing to our benefit.
Sascha - German Operation Manager
"Hi, mein Name ist Sascha Homeier. Ich lebe seit 5 Jahren in Vietnam und bin begeistert vom Land und dessen Leute. Mehr als alles andere liebe ich es diese Faszination auch anderen nahezubringen. Das ist es was mich in meinem Job als Marketing Manager für den deutschsprachigen Raum täglich antreibt."
The specialization is MICE & Airport services. Ms. Jany is our senior travel consultant. She is also in charge of Airport services Department. You could contact her 24/7 whenever you have request for landing visa to Vietnam, Fast track or VIP service at Vietnam International Airports.
Besides, She is experienced for planning the trip for Package Tours in Vietnam.
Vinh Nguyen - Marketing Manager
Hi everyone, I'm Vinh Nguyen, currently working as Marketing team leader. Being a learnaholic in languages & cultures, I believe travelling is not simply relaxing but also learning. Each place we discover, each person we meet on the way, all can teach us lessons, sometimes it can be an enlightenment moment, sometimes a lifetime lesson. That is also what we, Luco Travel - Vietnam Tour Operator, hope that you have during the trip with us. Life has so much more to offer than to sit around and think, so it's time to go!
Xin Chào, Welcome to Vietnam! My name is Niem and I have been working as a tour guide in Saigon for nine years. Have you ever wondered how different your visit to a foreign country could have been if you'd had a knowledgeable, qualified guide to show you the sights and tell you the stories? If you are looking for travel experience, especially local life and hidden paths in Vietnam, I am more than happy to be your consultant. Xin Chào Vietnam!!!
Nhung Le – Transport Operation.
Hi everyone, my name is Cam Nhung. My job is a transport operator at Luco Travel - Vietnam Tour Operator. I want to make our passengers feel safe, fun and comfortable during their trip in Vietnam. I hope you will get wonderful experience with people, culture, history at every beautiful place you come.
Nhung Nguyen – Accountant Manager
Greeting to everybody, my name is Nhung, a Saigoner and a mother of one lovely children. I am so grateful to able to be a member of Luco Travel - Vietnam Tour Operator with friendly, dynamic and active co-workers. I am working as an accountant. My country is hospitable and always welcomes you with an open arm. So please come to Vietnam.
Luco Travel - Vietnam Tour Operator's team of more than 100 hundreds is growing quickly to support our ever increasing number of clients. As a privately owned and founder led travel company, we work in a dynamic environment and are able to respond quickly to your needs. We invest in our people, whether tour guide, driver, local expert or customer support; and they invest in you.