VIETNAM ESSENTIALS 10 DAYS TOUR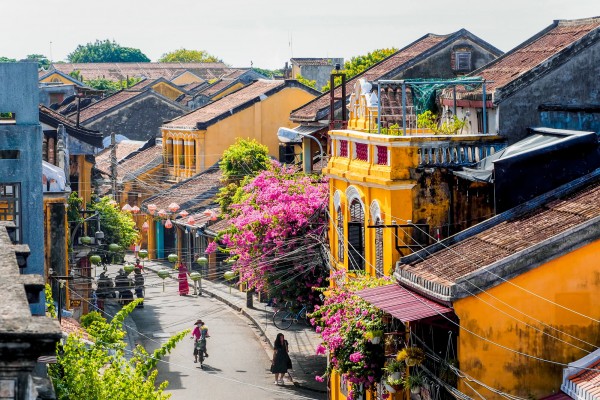 Bus, Cruise, Boat, Flight
Explore different tastes of Vietnam on your 10 days trip thru some most stunning sights of the country.
Start your tour in Hanoi where everything blended together in a very 'humanism disorder' to learn about a developing Vietnam that rich in culture and traditions. Continue to Halong where you will take a stunning boat cruise thru dramatic islands to touch the greatness of nature. A short flight will bring you to Hue, the land of royal vestiges that reflex pomp ceremonies and Hoi An, the little charm World Heritage. Get to Ho Chi Minh City where you can taste some best street foods in the world and take a cruise along the mighty Mekong River to enjoy the scene of most colorful floating market.
Highlights:
Hanoi cyclo tour thru mesmerizing Old Quarter

City tour of Hanoi for some most well-known landmarks

Boat cruise Halong Bay

Royal citadel tour in Hue

Dragon boat cruise on Perfume River

The Lang Co beach and Hai Van pass

Hoi An cycling and sunset cruise

Cu Chi tunnels

Mekong floating market
DAY 1. HA NOI ARRIVAL - CYCLE TOUR - WATER PUPPET SHOW (-/-/D)
You will be met by Luco Travel's driver and tour guide at Noi Bai International Airport and transfer to Hanoi's Old Quarter. Check in at the hotel. Free & Easy.
" Xich Lo " – Cycle Tour & Water Puppet Show.
18:00 Pick up at the hotel by "Xich Lo", drive you around Ha Noi's Old Quarter, Hoan Kiem Lake, Ngọc Sơn Temple an hour at night and drop off at the Ha Noi Water Puppet Show.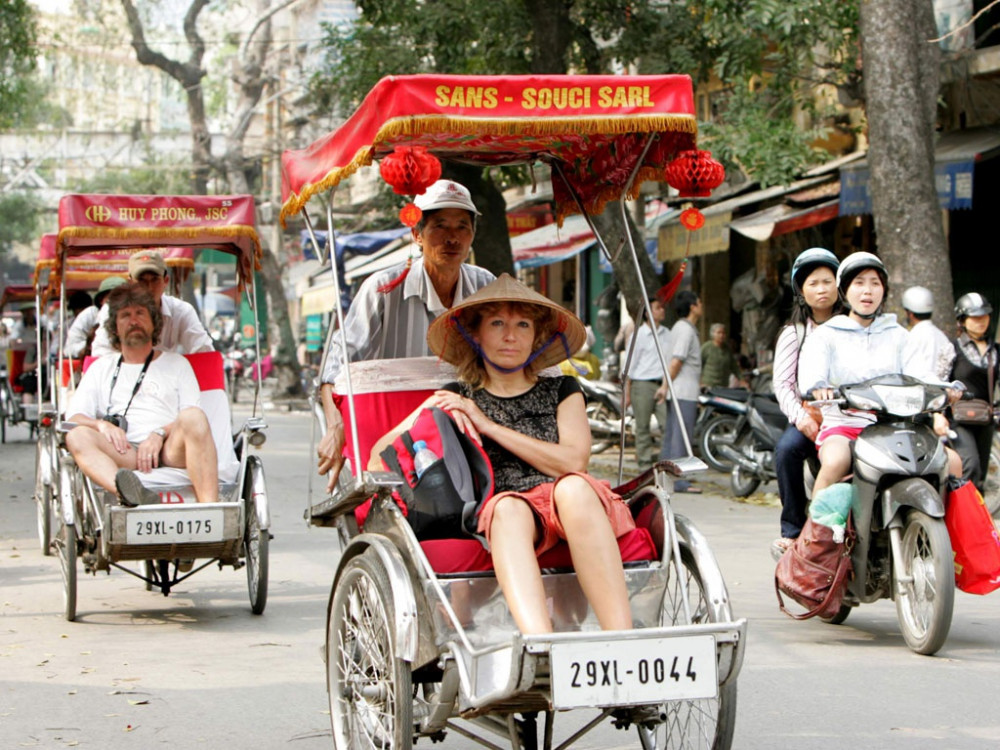 "Xich Lo"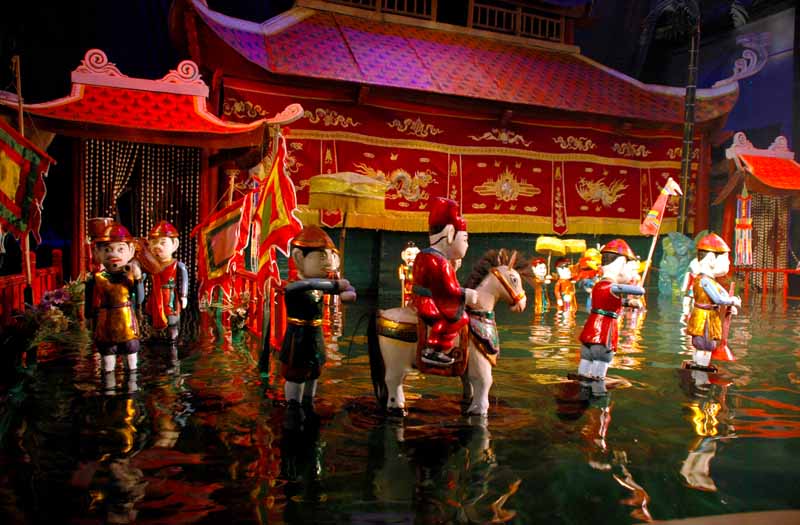 Water Puppet Show
We will watch the Water Puppet Show. Traditional content of water puppet performance contains daily life of Vietnamese farmers (cultivating, tending buffalo, catching fishes…), communal entertainment (swimming contest, dragon dancing…), and/or historical legends (Le Loi returns precious sword…), with a performance that has appealed to audiences for centuries.
Have dinner. Back to the hotel.
Overnight in Ha Noi, arranged by Luco Travel – Vietnam Tour Operator.
DAY 2. HA NOI CITY TOUR (B/L/-)
You will be met by Luco Travel's tour guide and driver at the hotel.
You will visit the memorial complex for the historic figure and father of modern Vietnam - Ho Chi Minh, You will visit the Presidential palace, Uncle Ho's house on stilts, One Pillar Pagoda, and the Temple of Literature - Vietnam's first university that built in 1076, You will also - the picturesque West Lake and the sixth century Tran Quoc Buddhist Pagoda.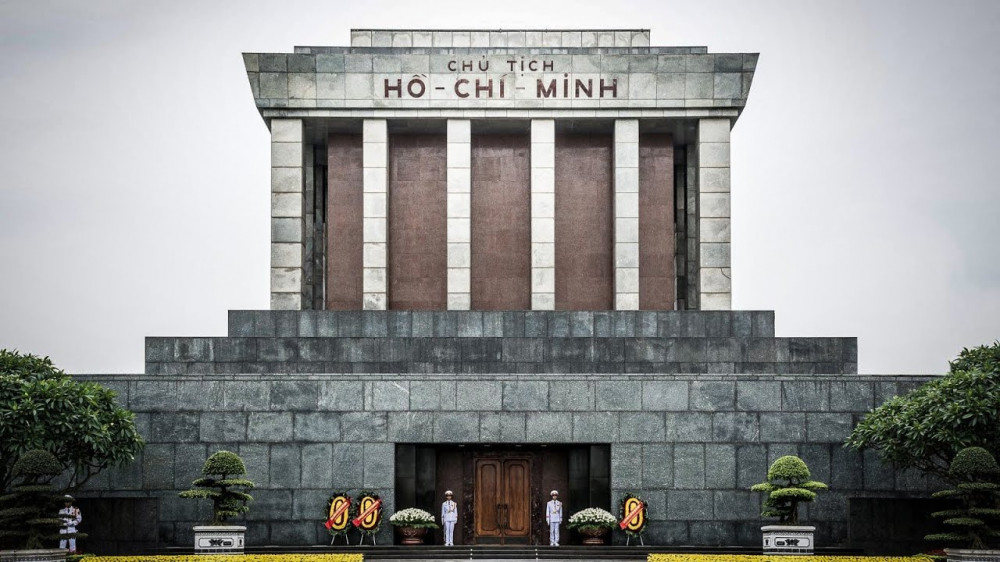 Later, you will enjoy lunch at a local restaurant with special Vietnamese food.
Afternoon: You will visit the fascinating Vietnam Museum of Ethnology - which is both a research centre and a public museum exhibiting the ethnic groups of Vietnam. The mission of the museum is scientific research, collection, documentation, conservation, exhibition and preservation of the cultural and historic patrimony of the nation's different ethnic groups. The museum also serves to guide research, conservation, and technology that are specific to the work of an ethnographic museum.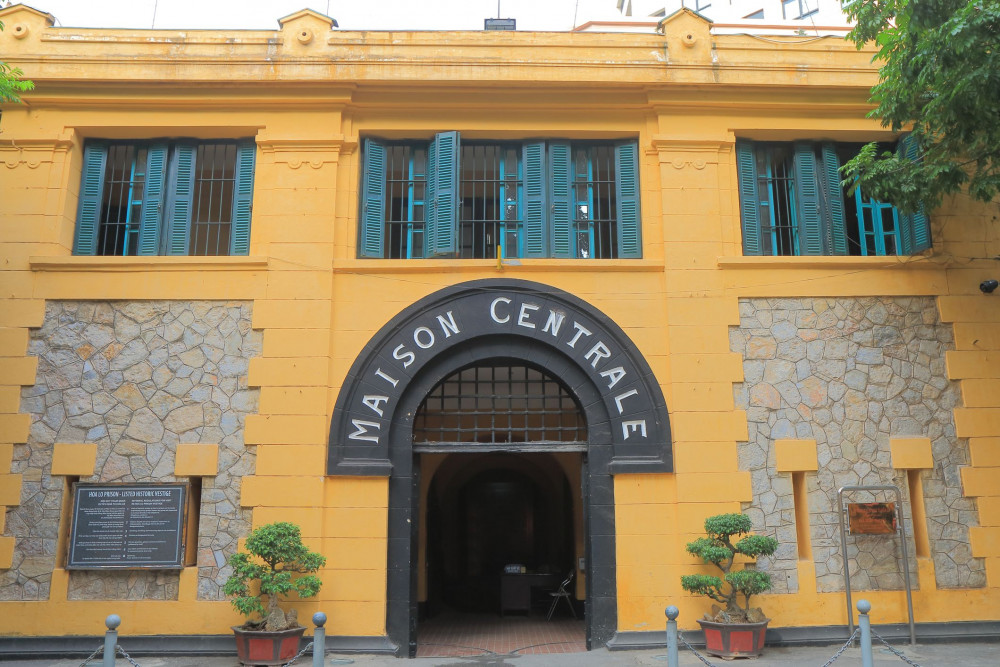 Hoa Lo Prison
And then, your guide will take you to Hoa Lo Prison. Most exhibits relate to the prison's use up to the mid-1950s, focusing on the Vietnamese struggle for independence from France. A gruesome relic is the ominous French guillotine, used to behead Vietnamese revolutionaries. There are also displays focusing on the American pilots who were incarcerated at Hoa Lo during the American War.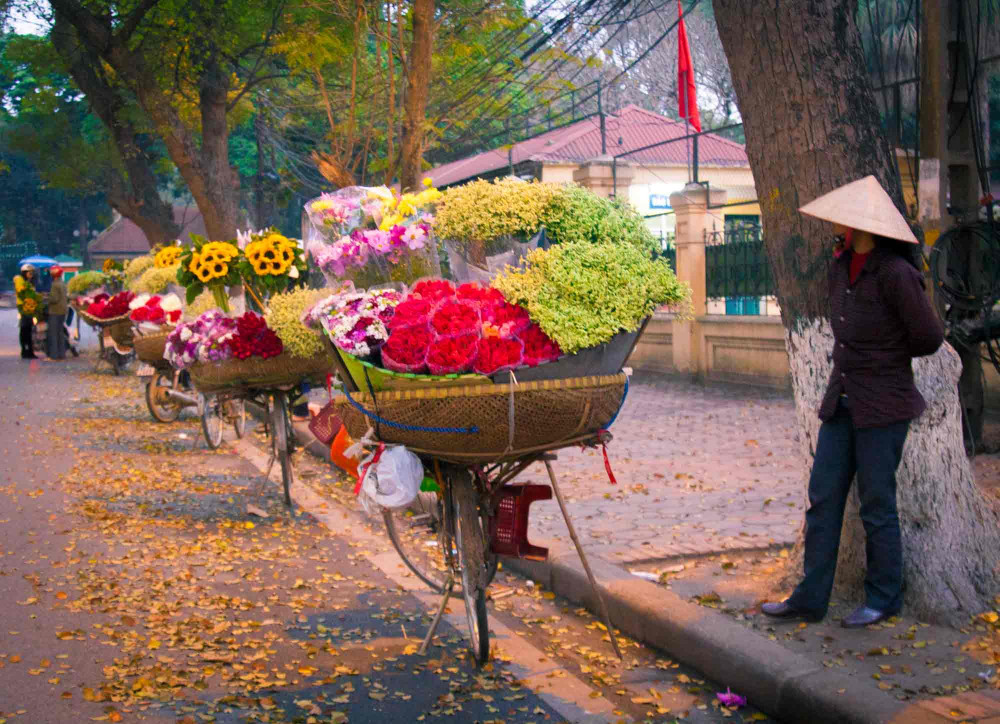 Hanoi Capital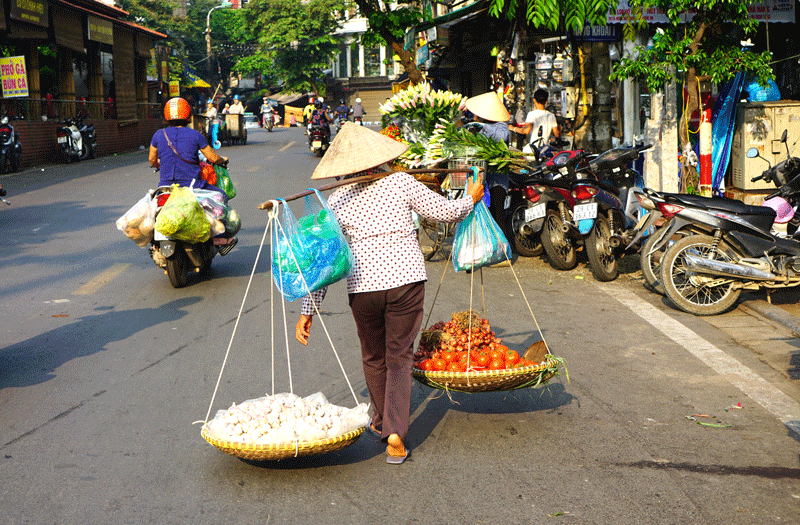 You will also visit Hoan Kiem Lake with Ngoc Son Temple where a legendary turtle is reserved, and Hanoi's Old Quarter, also known as the '36 streets' with plenty of photo opportunities all around you.
Hoan Kiem Lake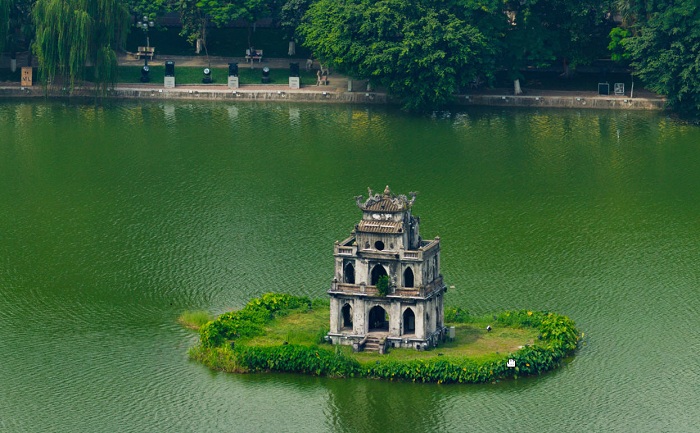 Back to the hotel. Free & Easy
Overnight in Ha Noi, arranged by Luco Travel – Vietnam Tour Operator.
DAY 3. HA NOI - HA LONG BAY - BAI TU LONG BAY - OVERNIGHT ON CRUISE (B/L/D)
07:30. Breakfast at the hotel and check out.
08:00. After that our driver and tour guide will pick you up at your hotel and depart to Ha Long Bay. Ha Long Bay is located in Northern Vietnam and is one of the country's most popular tourist attractions. Aside from being popular with tourists, it is also a culturally recognized UNESCO World Heritage Site. The bay is well known for its scenic karst topography, which is a subject of many popular photos of Vietnam.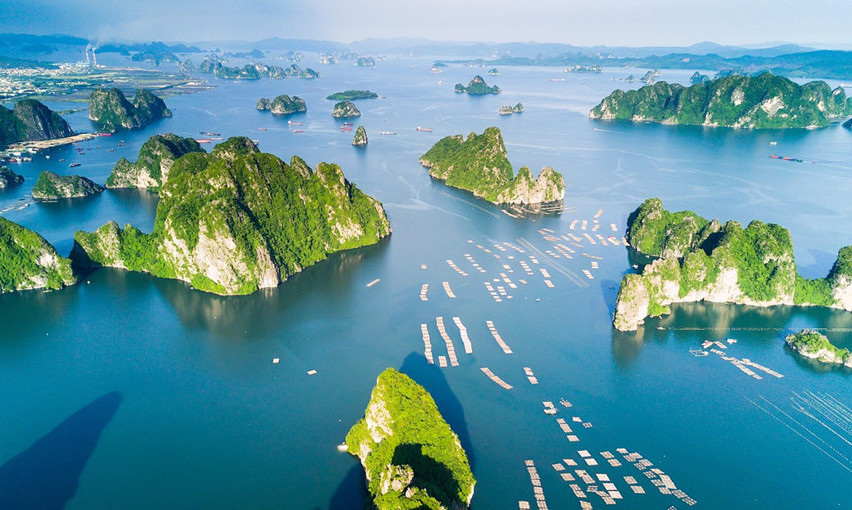 Ha Long Bay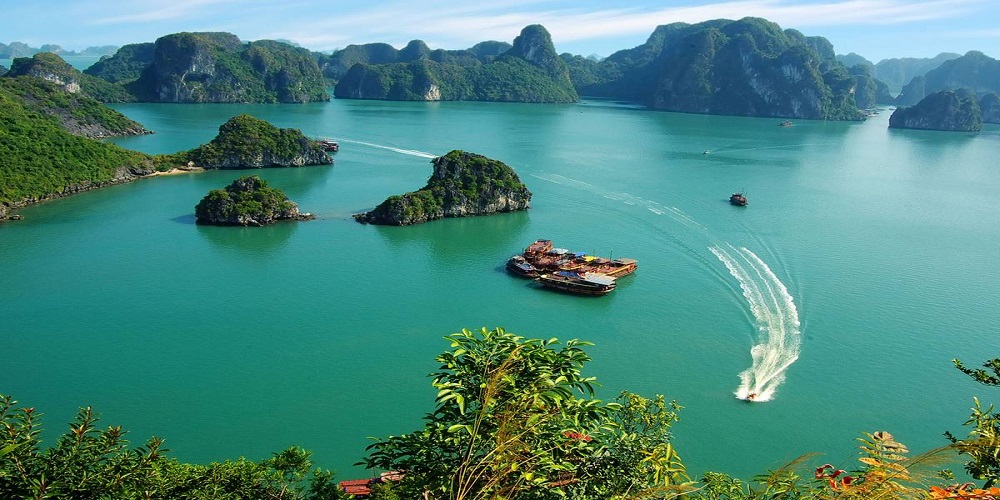 On the way to Ha Long Bay, we will have a short break of about 20 minutes. The car will arrive at Bai Chay, Hon Gai Harbor.
12:00. Pick-up at Hon Gai harbor. Transfer to Cruise by tender (5 -10 minutes)
12:45 Enjoy a welcome drink, then check in to your cabin
13:30 Cruise through Bai Tu Long Bay & enjoy lunch aboard with a set menu.
Bai Tu Long Bay
15:30 Explore VungVieng Fishing Village: Guests may choose to discover the daily life of the fisherman communities by bamboo boat or kayak around the Vung Vieng area. ( both options lasting about one hour )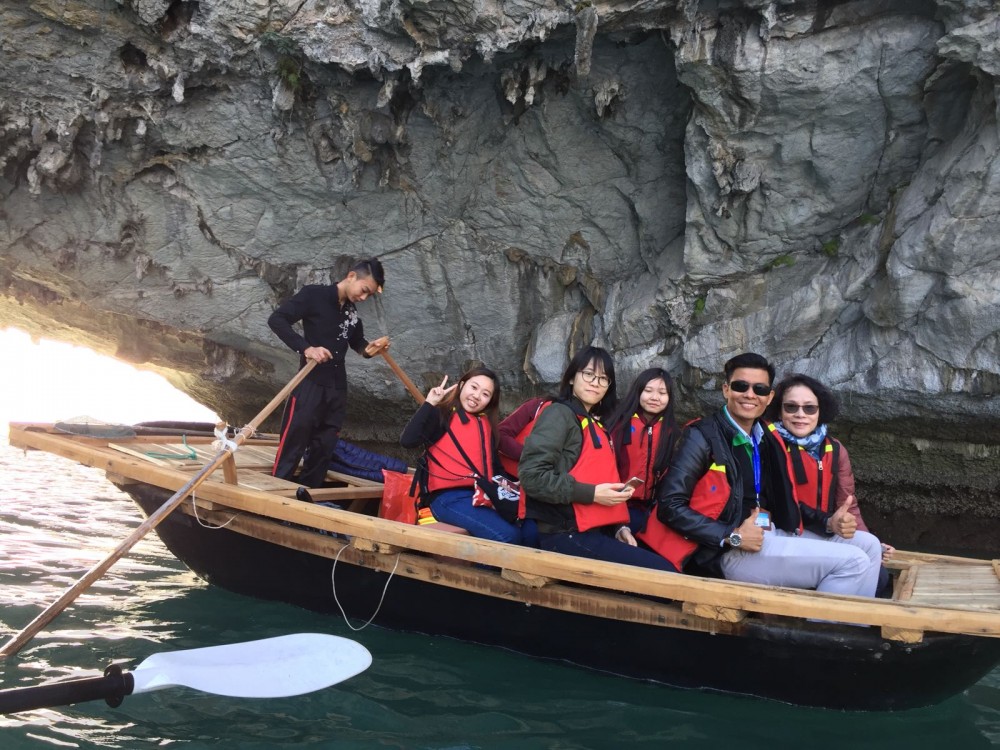 Kayaking in Halong Bay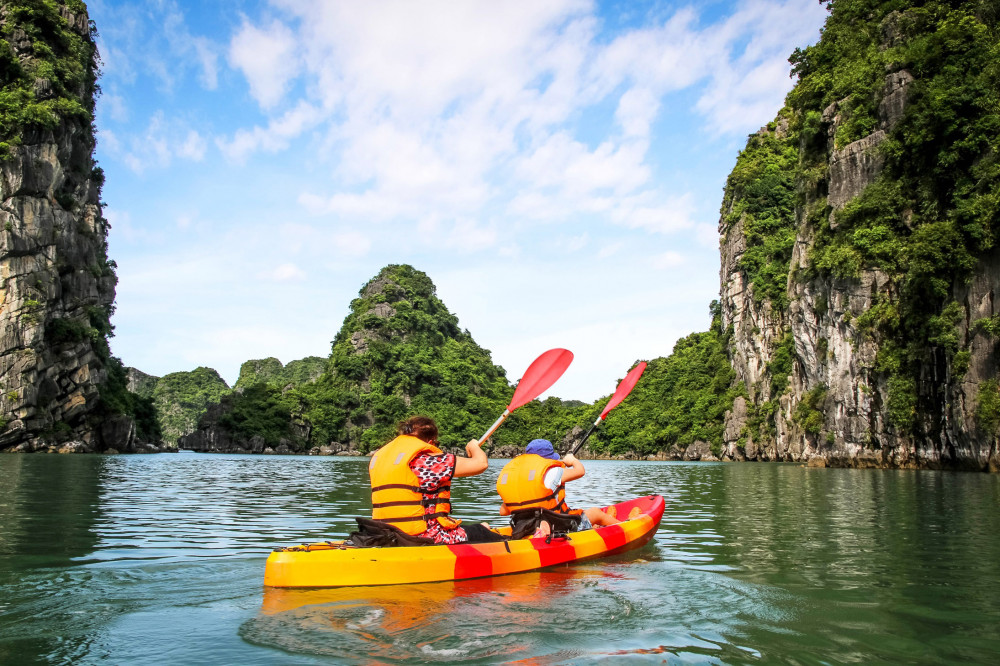 17:30 Relax and enjoy the sunset while the boat is cruising to the Cong Dong-Cong Do area to anchor overnight.
18:00 Free time or take part in the cooking class: learn how to cook traditional Vietnamese cuisines. (Cooking class can be arranged upon request )
19:30. Enjoy delicious dinner on a cruise
21:00 Free evening to join some activities like board games, squid fishing, or karaoke (upon request)
Overnight on Cruise, arranged by Luco Travel – Vietnam Tour Operator.
DAY 4: BAI TU LONG - THIEN CANH SON CAVE - HA NOI - HUE (B/L/-)
07:00. Wake up early in the morning for Tai Chi exercise.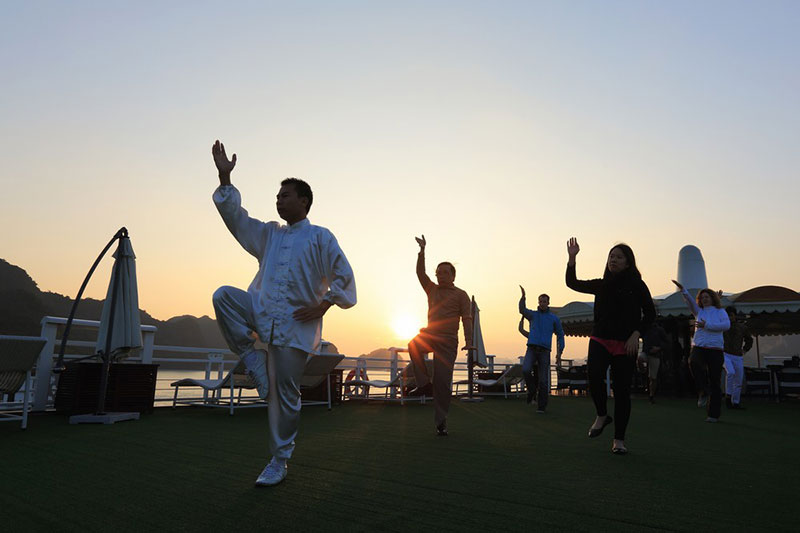 07:30. Have breakfast on a cruise.
07:45 – 09:00 Catch morning view of seascapes with a cup of tea or coffee, have breakfast while cruising toward Thien Canh Son Cave. Visit Thien Canh Son Cave – the medium size and less visited cave in Bai Tu Long Bay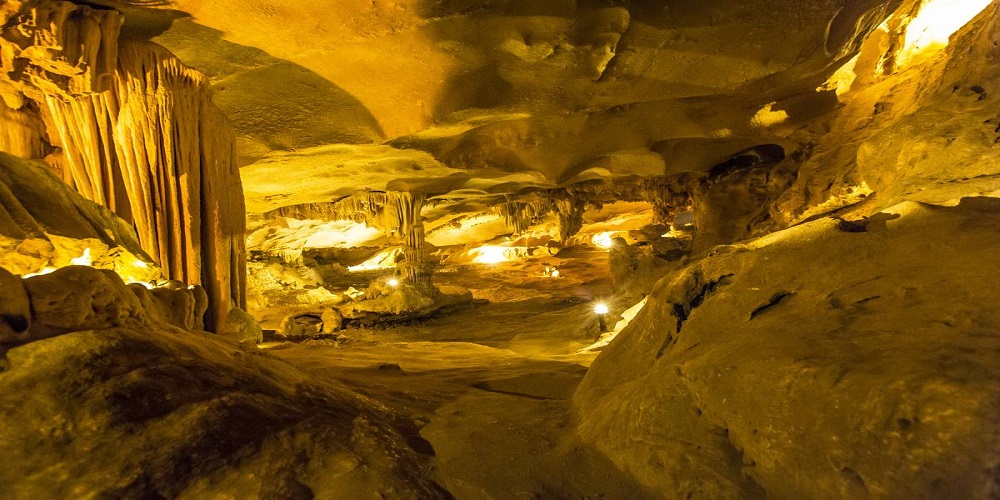 Thien Canh Son Cave
09:00 Return to the boat, relax on the sundeck or watch fruit carving demonstration
09.30: Check out of the cabin while our boat heads back toward the harbor.
10:00 Transfer by tender to the pier and relax inside the pier building while waiting for return transportation.
10:30 Enjoy the last scenery of the Ha Long Bay over lunch when the boat cruises back to shore.
12:00: After lunch, you will board our tender and head back to the wharf where you will be met by your return trip vehicle to transfer you to Hanoi.
15:30 Arrive in Ha Noi. Leave the luggage at the lobby. Free time until our driver picks you up and takes you to the airport and take flight to Hue.
A Luco Travel tour guide and driver will meet you at the Phu Bai Airport and take you to the hotel in Hue City.
Overnight in Hue, arranged by Luco Travel – Vietnam Tour Operator.
DAY 5: HUE IMPERIAL CITY - HOI AN ANCIENT TOWN (B/L/-)
In the morning, at 8:00am our driver and tour guide will pick you up at the hotel lobby. depart to visit Imperial Citadel – where 13 emperors of Nguyen Dynasty used to work and live. We will visit in turn of: Nine Holy Canons, Ngo Mon Gate, Court Yard, Thai Hoa Palace, The Temple, the Forbidden Purple City, …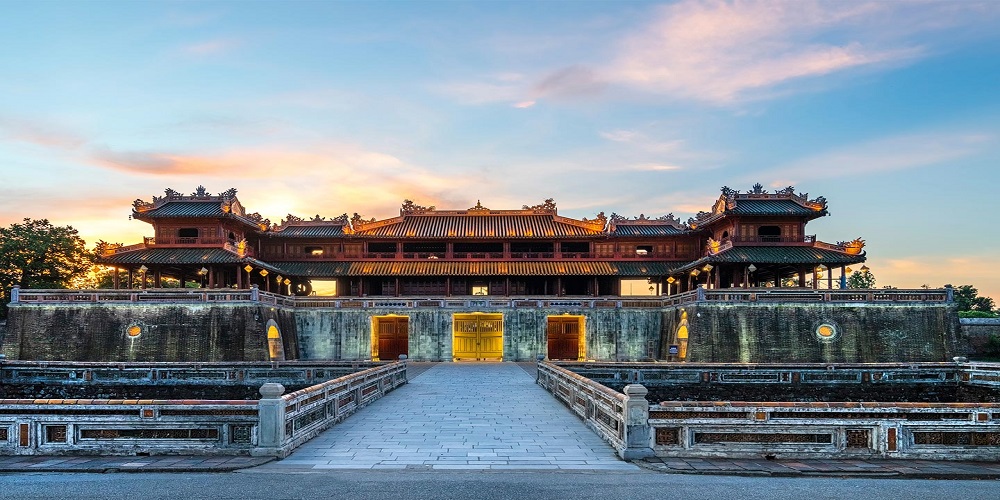 Hue Imperial City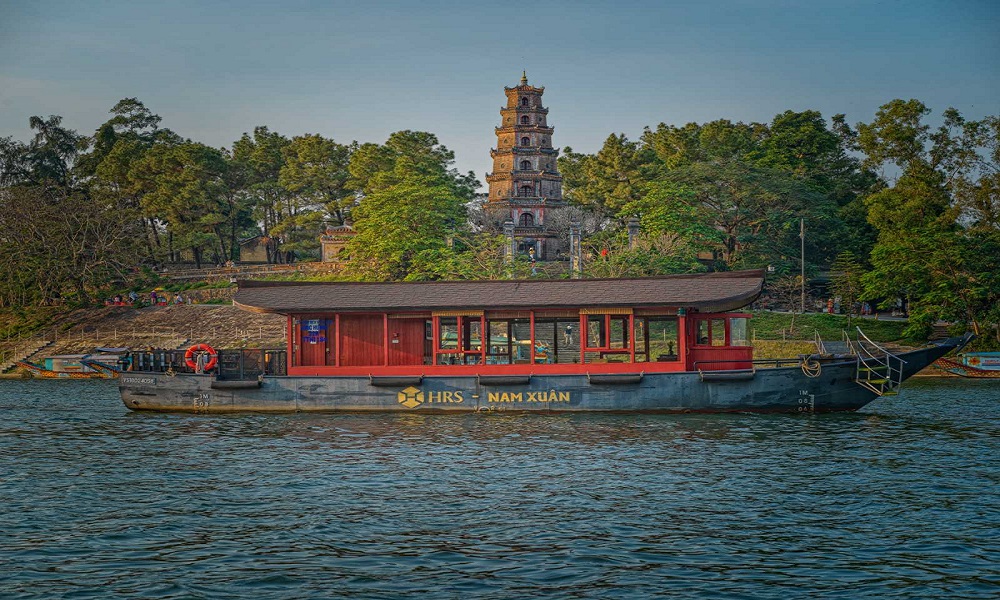 Thien Mu Pagoda
Leaving the Imperial Citadel, we will drive along the romantic Perfume River to visit the last tourist attraction in the itinerary – Thien Mu Pagoda. Thien Mu Pagoda is the oldest pagoda in Hue with more than 400 years old.
Continue to visit Tu Duc Tomb – the palace in the life after life of 4th emperor of Nguyen Dynasty. This tomb is a superb example of Nguyen Dynasty's Architecture. Our tour guide will help you to get the deep knowledge about the architecture, history, culture of Viet Nam under the reign of Nguyen Dynasty. Especially, the philosophy of the emperor.
Have lunch at a local restaurant.
Travel to Hoi An Ancient Town, on the way you can stop at Lang Co Beach – one of the most beautiful beaches in Viet Nam. Lang Co Beach has the white sand with more than 10km.
Hoi An, a little ancient town nestled on the banks of the Thu Bon River is one of the World Heritages in the country. Before the river silted up, Hoi An was one of the most important trading ports in Southeast Asia. Over the years, merchant ships from both the East and the West docked in Hoi An, making it hustle commercial centre. For now, Hoi An's architecture, lifestyle and atmosphere is well preserved and combined to produce this unique heritage site. It's also a shopping paradise - with much to browse and buy.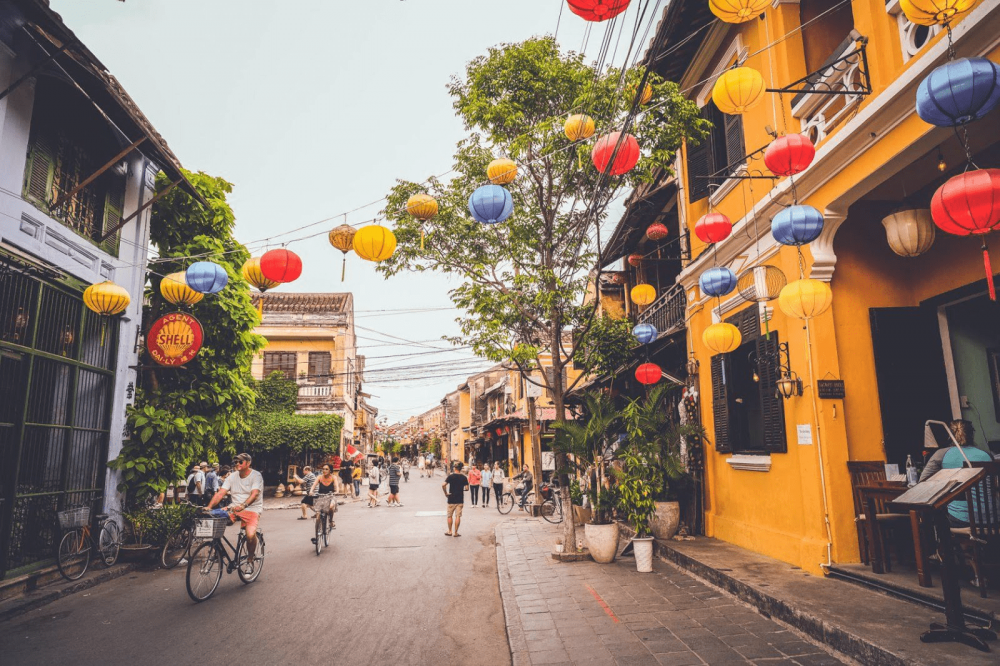 Hoi An Ancient Town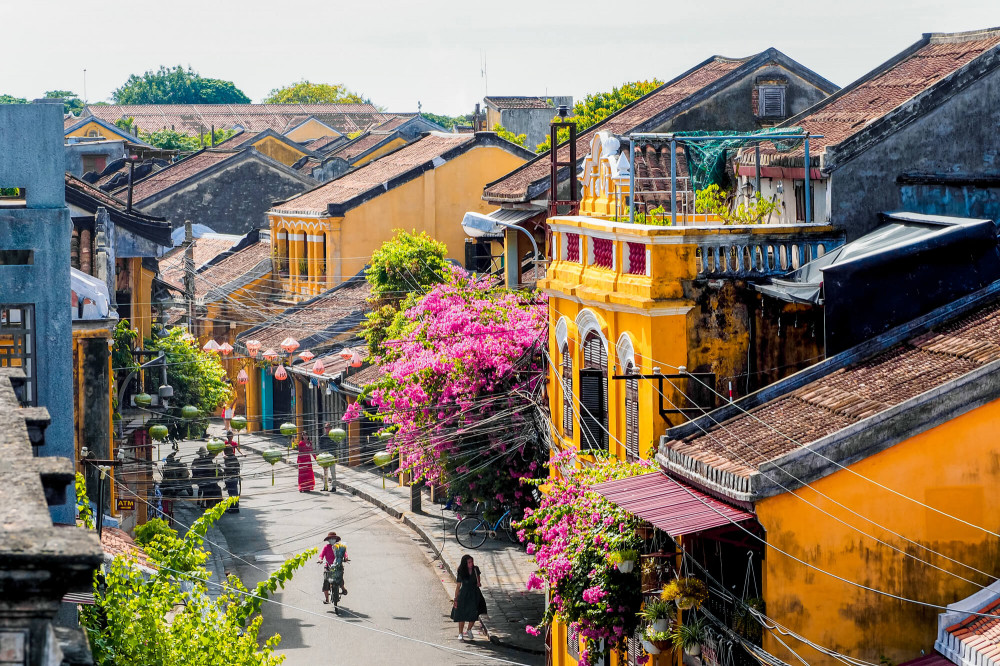 Afterwards, check in hotel and we will take a walk of Hoi An Ancient Town for featured sights of the town such as the central market, former merchants' houses, the 400 year-old Japanese Covered Bridge, a Chinese communal hall and Hoi An Museum.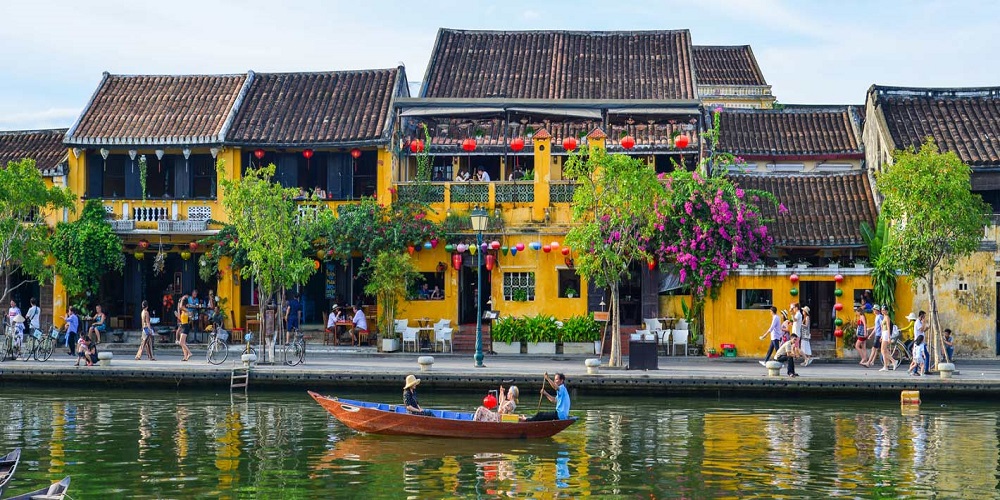 Hoi An Ancient Town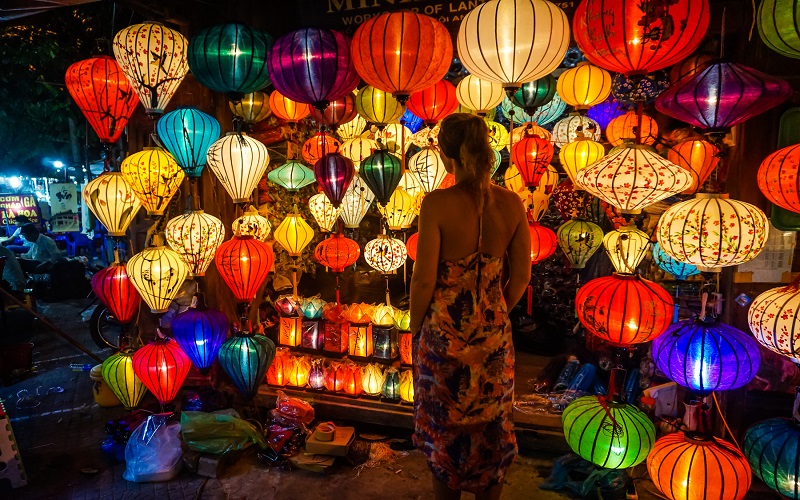 Overnight in Hoi An, arranged by Luco Travel – Vietnam Tour Operator.
DAY 6. HOI AN - DA NANG - GOLDEN BRIDGE - MARBLE MOUNTAIN (B/L/-)
07:30 After breakfast at the hotel, our guide and driver will pick you up at your hotel to visit Ba Na Hills - King Mountain, also known as the second DaLat/ Sapa in Central Vietnam. The beautiful weather here is always cool.
08:30 You will admire the heights by riding the most modern cable car system in Southeast Asia. You will visit Dream Stream Cable Car Station. Afterward, you will visit and play games at the Fantasy Park.
Golden Bridge
We will then explore King Peak, which sits at an altitude 1.487m. You can see panoramic views of the Bana Hills and Quang Nam - Da Nang on high. On the top of the mountain, you will see Linh Tu Pagoda, which has a special temple construction.
You will then visit Golden Bridge one of the famous bridges in Vietnam and Asia, before heading back to the hotel to relax.
Enjoy buffet lunch at Bana Hill restaurant.
Continue to visit the Marble Mountains, one the most famous points in Da Nang. This is a cluster of five limestone mountains with sacred pagodas and beautiful caves inside. Let's conquer 151 steps of Thuy Mountains – the highest mountain here. Visiting in turn: Linh Ung Pagoda, Xa Loi Tower, Van Thong Cave, Hoa Nghiem Cave, Huyen Khong Cave, Tam Thai Pagoda, …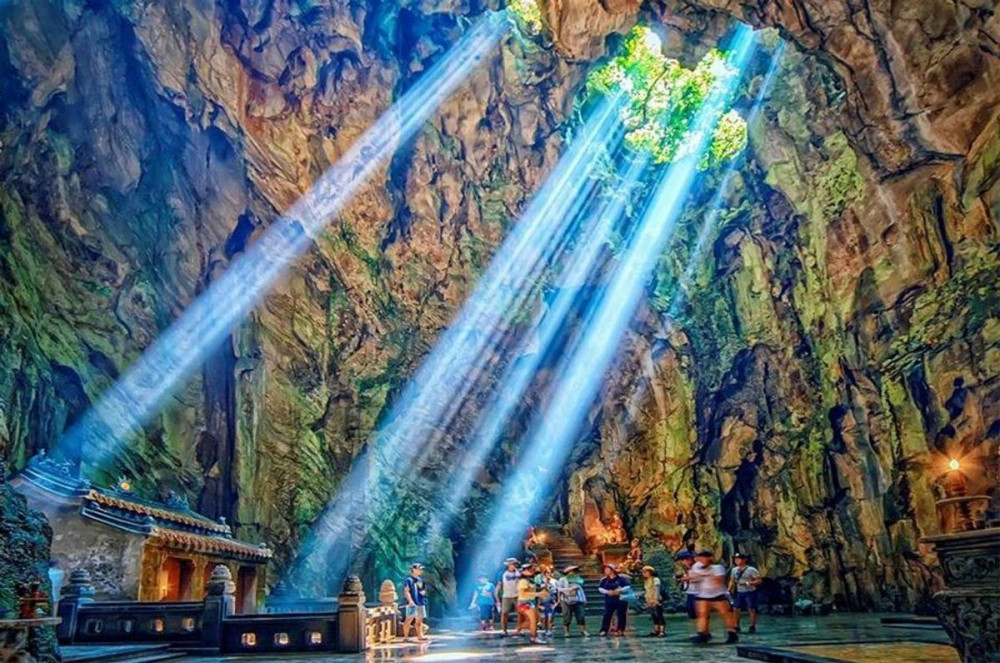 Huyen Khong Cave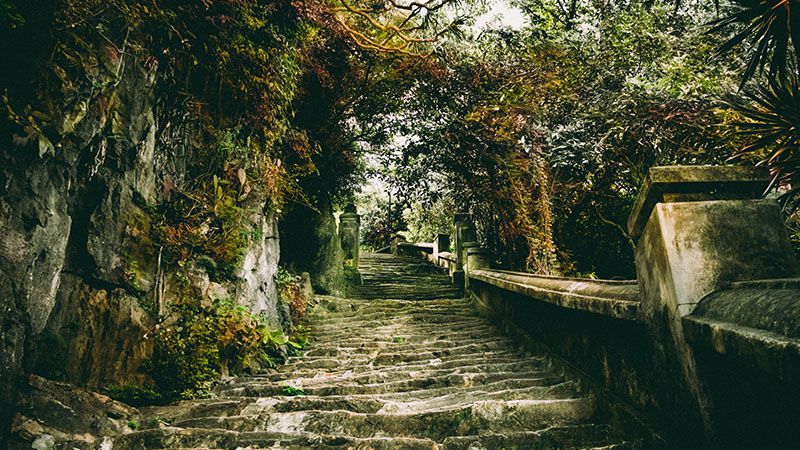 You can spend your time visiting Stone Carving Village under the mountains. Back to the hotel & Relax.
Overnight in Hoi An, arranged by Luco Travel – Vietnam Tour Operator.
DAY 7. HOI AN - DA NANG - HO CHI MINH CITY TOUR (B/L/D)
After breakfast our guide will take you to Da Nang Airport, You will take a short flight to Ho Chi Minh City. (Timing is dependent on flight schedule), You will be met by Luco Travel's tour guide and driver at Ho Chi Minh Airport and transfer to the hotel.
We will visit the War Remnants Museum: Formerly known as the Museum of Vietnam War, this is a poignant display of the futility of war. Some of the black and white photography in the 'Requiem' exhibit is particularly touching, dedicated to both foreign and Vietnamese journalists and photographers who perished during the conflict. The courtyard outside contains the spoils of war, namely rusting jets, tanks and cannons captured from the American military regime.
Enjoy your lunch at the restaurant.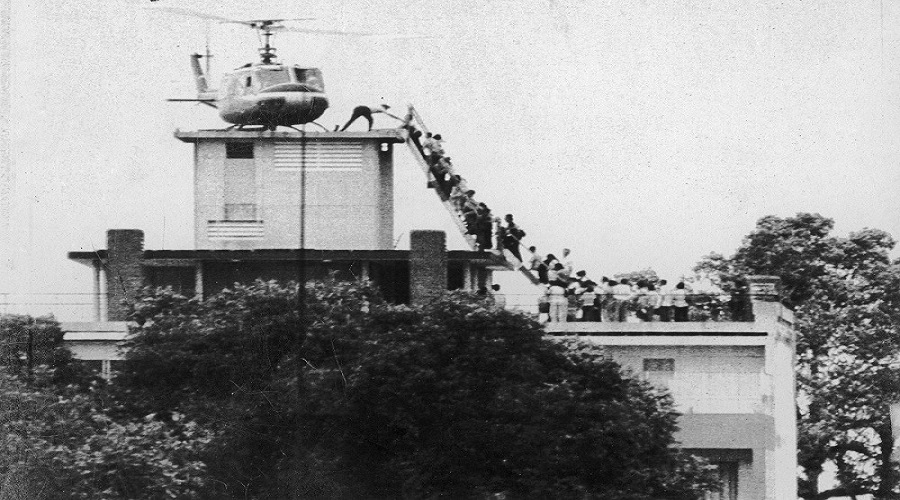 Visit the former US Embassy where the last helicopter flew out of Saigon in 1975. Then you can go sight-seeing at the Notre Dame Cathedral and Old Post Office: built between 1877 and 1883. This is one of the best examples of classical French colonial architecture. Remarkably every stone used in its creation was shipped from France to Vietnam. Her two 40m towers, topped with iron spires dominate the city's skyline. The Old Post Office is another example of French colonial architecture and is also the country's largest post office.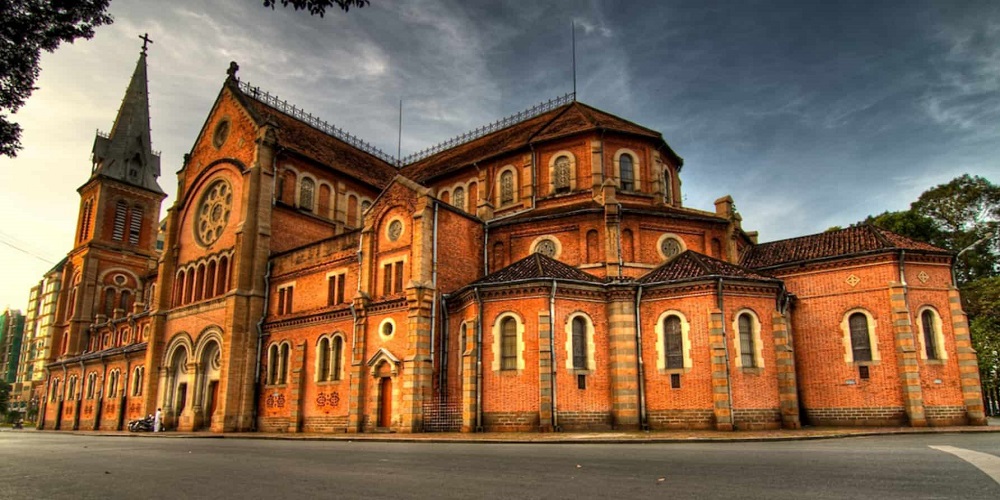 the Notre Dame Cathedral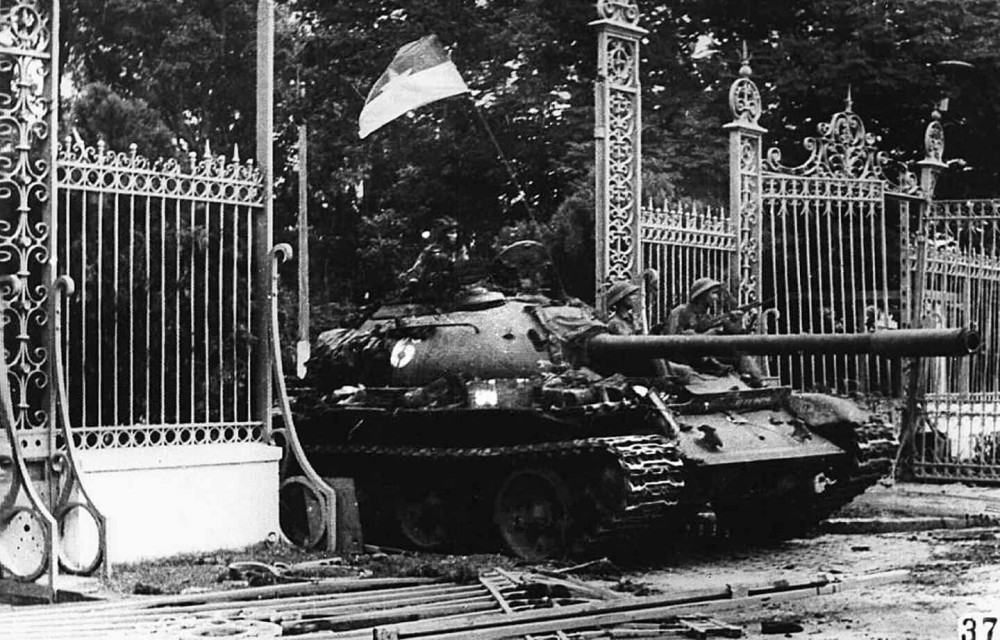 A tank crashed through main gate of The Reunification Palace on 30 April 1975
Visit The Reunification Palace: This is one of the most important buildings in the city. Here on April 30th 1975 the 'American War' officially ended when tank number 843 of the North Vietnamese Army crashed through the gates of what was, at the time, the residence of the President of the Republic of Vietnam.
Back to the hotel. Free & Easy.
Overnight in Ho Chi Minh City arranged by Luco Travel – Vietnam Tour Operator.
DAY 8. CU CHI TUNNELS & STREET FOOD TOUR (B/L/D)
The morning: 7:30 Am. Our car and tour guide will pick you up at your hotel and depart to Cu Chi Tunnels, we take about 1,5 hours to Cu chi, arrive to Cu Chi tunnel to explore the amazing site where Viet Cong hid during the War. It is now a popular spot for both Vietnamese & foreign tourists - the network of over 250km of tunnels became legendary when they played a vital role in the War.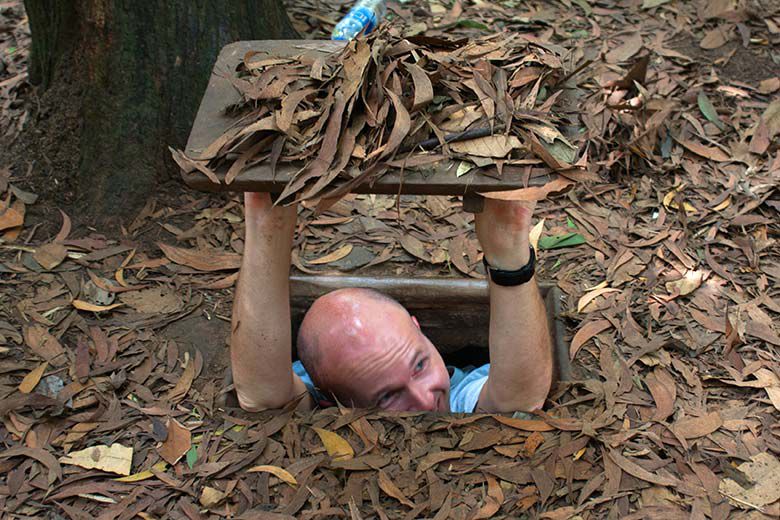 Cu Chi tunnel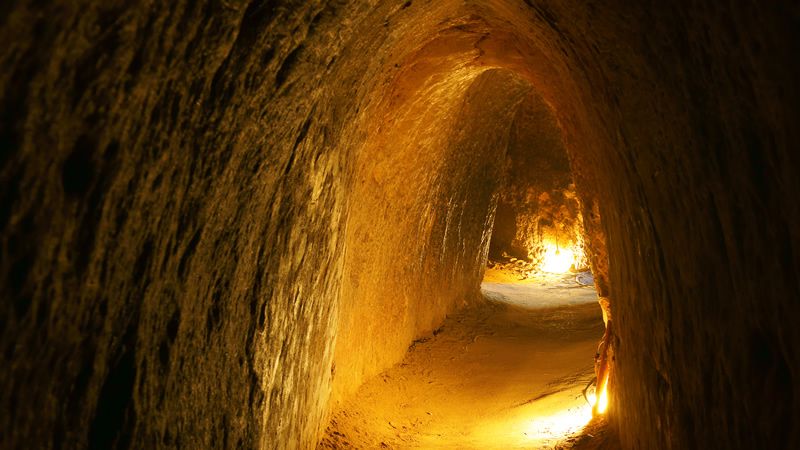 In their heyday, the tunnels were functioning underground cities including numerous trap doors, specially constructed living areas, storage facilities, weapons factories, field hospitals, command centers & kitchens. There is plenty of evidence of the fierce battle that took place here during the 1960s when Cu Chi was a "Free Target Zone". Visitors can watch a short introductory video showing how the tunnels were constructed before entering the tunnels. Spend the next hour exploring the tunnels.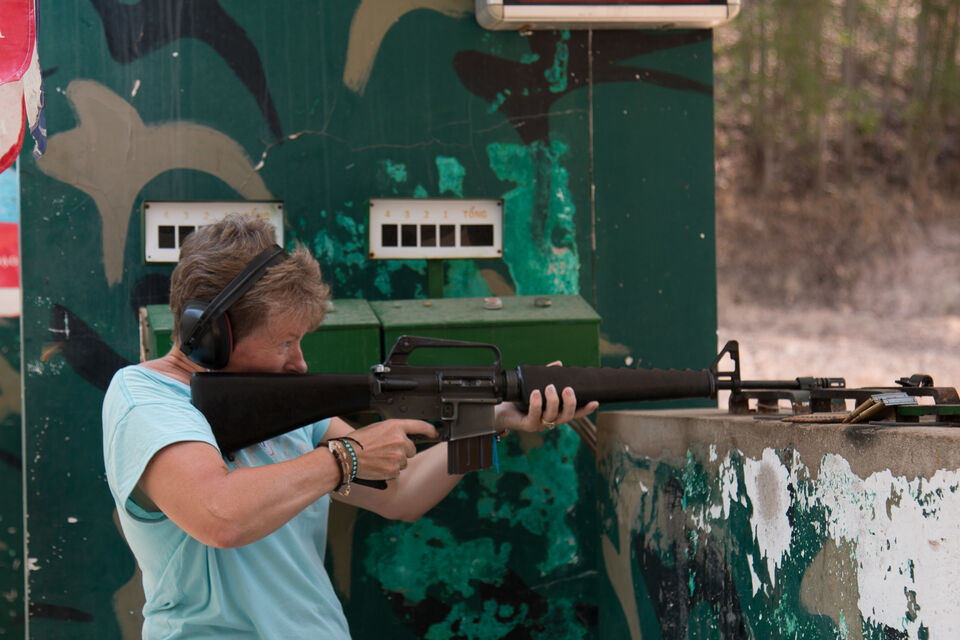 After that travelers can try delicious manioc which was the main food for guerilla-warriors in Cu Chi during the war. Visitors can try to fire off an AK47 or MK16 or machine guns at the nearby shooting range. (on request and under control by Vietnamese Army, allow above 18 years old)
14:30 Back to HCM city after lunch, relax.
Saigon Street Food Tour On Scooter At Night.
At 18:00, our tour guide will meet and greet you at the hotel. You then receive safety instructions on how to ride on the back of a bike properly in order to ensure the safest experience.
You will participate in the rush hour of Saigon the way we, the locals do: all from the back of the bike. We ride through the beautiful lit boulevards, the back alleys and the busy streets, which is undoubtedly more awesome of an experience than looking through pictures in your handbook!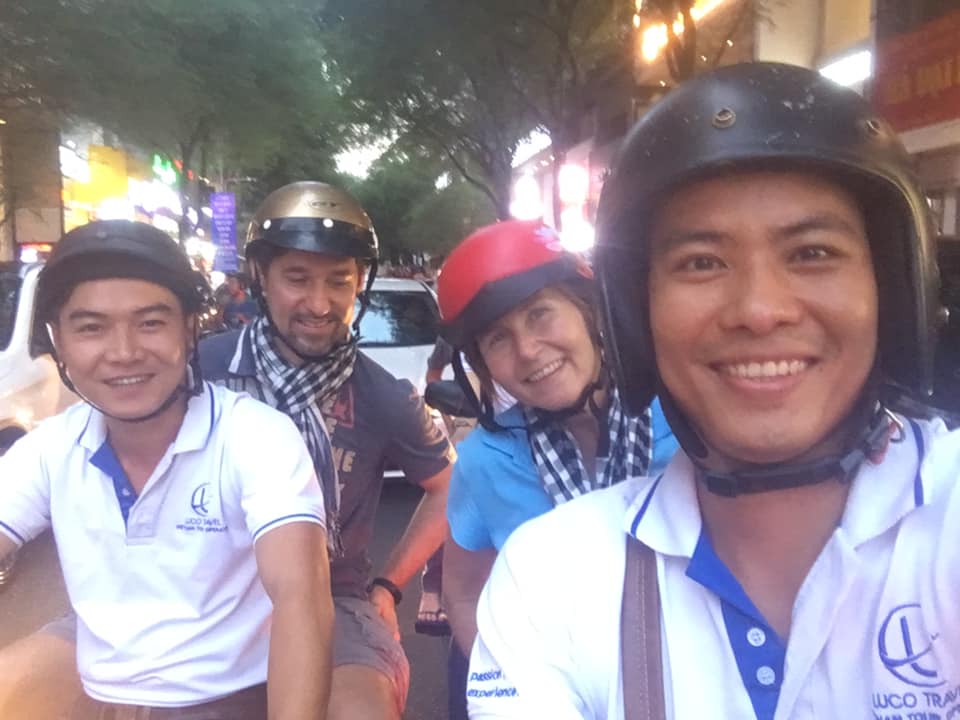 Saigon Street Food Tour On Scooter At Night.
First, let's enjoy Vietnamese pancakes (Bánh xèo), spring rolls,… and you will learn about the customs and background knowledge of the food you eat from our guide and you also will try how to make it. We also would sit on small plastic chairs in the alleys, enjoy our food and drink like Vietnamese.
Later on, our guide takes you around Saigon and explore "Chung cư" - a Vietnamese residential building which was built a very long time ago. We will sit down to taste coffee in the hidden coffee shop and learn how to make a glass of coffee without a machine. It is so good and that is why it has its place in everyone's bucket list when coming to Vietnam.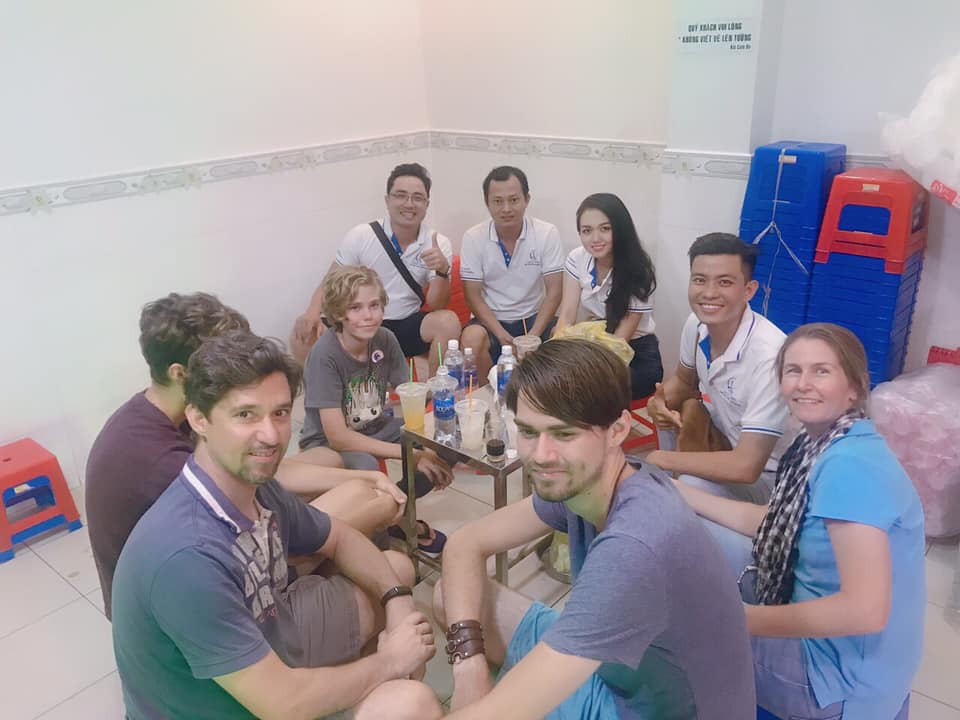 Saigon Street Food Tour On Scooter At Night.
On our way, you will see local activities and discover small alleys where Vietnamese always enjoy their spare time in the evening and of course, getting some snacks (Vietnamese pizza) with which almost every Vietnamese falls in love, is a must.
Your last stop is the famous Vietnamese dessert, the sweet soup. You will have a chance to let us rock your senses until your jaw drops with 3 – 5 kinds of sweet soup desserts.
At around 21:30 pm, we will take you back to your hotel.
DAY 9. MEKONG DELTA - CAI BE FLOATING MARKET (B/L/-)
07:00 – 7:30 Breakfast at the hotel.
07:30 Depart on a 2 hour drive to Cai Be town in Mekong Delta that is home to a colorful floating market, vast emerald rice fields, luxuriant orchards and lush back waterways.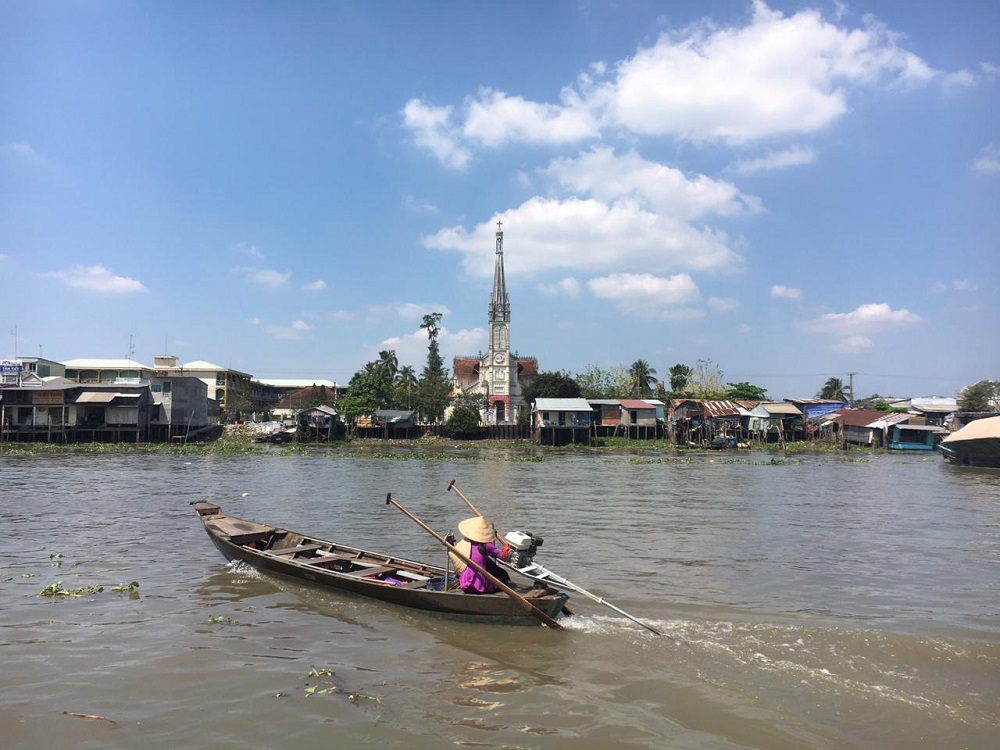 Cai Be floating market
Mekong Delta
Mekong Delta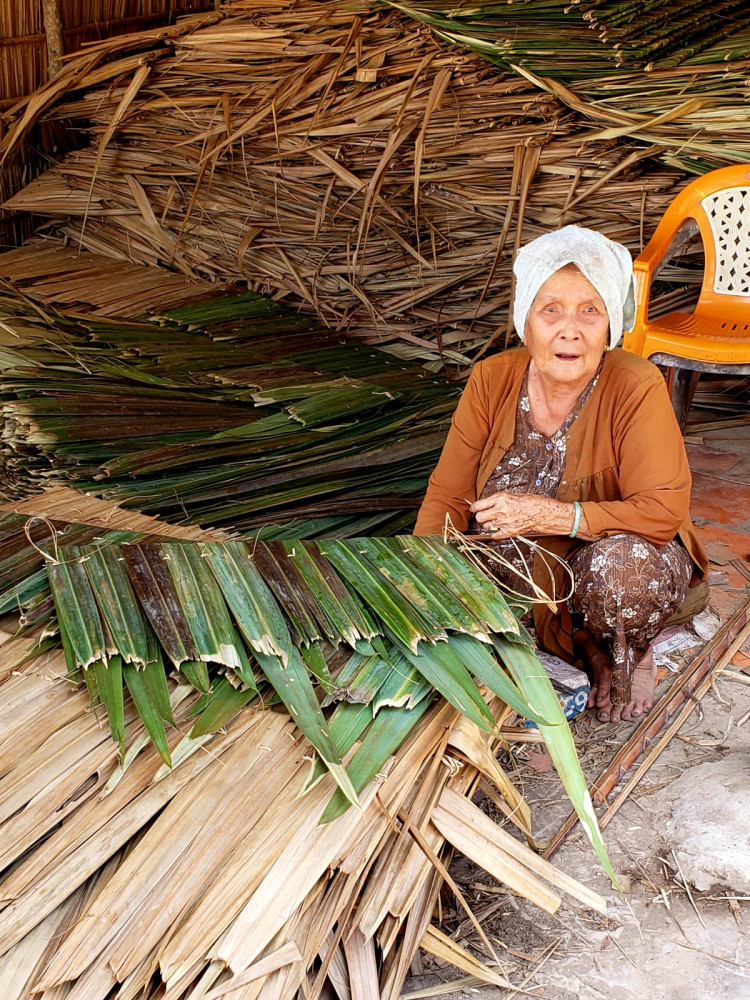 Upon arrival, board a long tail boat for a cruise to explore the Cai Be floating market where hundreds of boats gather for selling and buying, making a stunning scene on the water of Mekong River.
After that you can cycle about 1 hour around the village path with fruit orchards and bonsai gardens. Meet the local islanders to learn more about the local daily life in the Mekong Delta and see how they make the net rice paper, typical roof house, how to make souvenirs from water hyacinth …
Afternoon: Enjoy lunch at the Ba Kiet Ancient House with a local meal. Relax in the hammocks to get back your energy.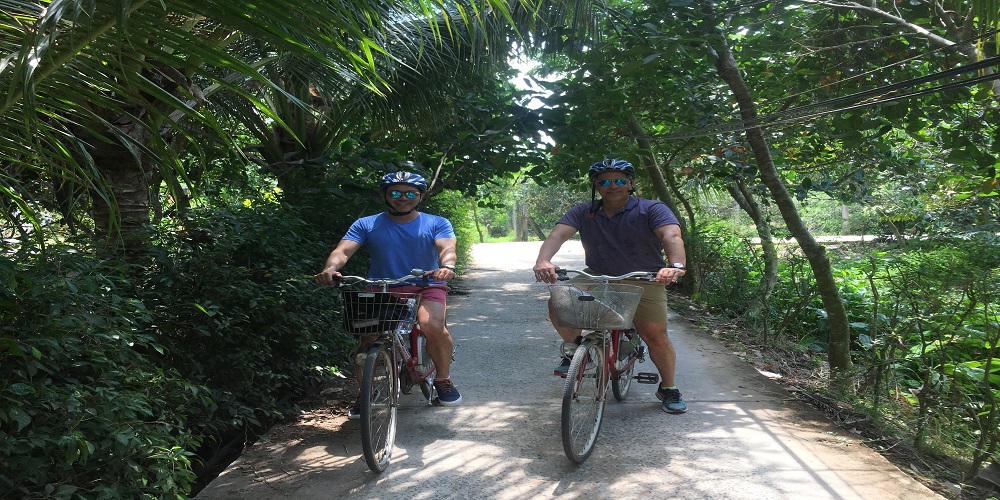 When we are done, The boat will take you back to Cai Be wet market to see how the local people are buying and selling food products, fruits, fish….. and meet your driver for the trip back to Ho Chi Minh City.
Overnight in Ho Chi Minh City arranged by Luco Travel – Vietnam Tour Operator.
DAY 10. THE COFEE SHOP - "PHỞ" - HO CHI MINH DEPARTURE (B/L/-)
Time dependent on flight schedule. Enjoy some free time for last minute purchases or simply relax at the hotel.
After that, our guide will take you to the Coffee Shop – Trung Nguyen Legend Coffee G7, one of the best Vietnamese coffee and very famous coffee in the world. Enjoy a cup of coffee and get some coffee as a souvenir for your friend and your family.
Trung Nguyen Legend Coffee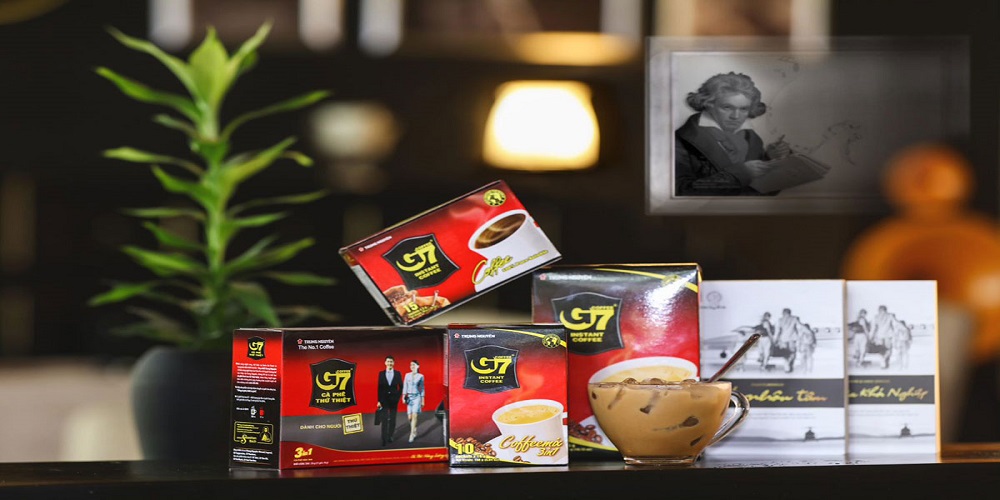 Back to hotel, check out and have lunch with Vietnamese Noodle Soup – "Phở" at the local restaurant more than 50 years old.
Your tour guide and driver will transport you to Tan Son Nhat International Airport. Thank you for spending time in our beloved Vietnam.
Have a great journey with Luco Travel !!!
Contact us: (WhatsApp/Viber): +84 932 998 003 Email: info@lucotravel.com
| | | | | | | | | |
| --- | --- | --- | --- | --- | --- | --- | --- | --- |
| Quantity (Pax) | 1 | 2 | 3 | 4 | 5 | 6 | 7 | 7+ |
| Hotel 3* | 2670 | 1591 | 1413 | 1301 | 1249 | 1171 | 1057 | 949 |
| Hotel 4* | 3130 | 1759 | 1581 | 1469 | 1417 | 1339 | 1226 | 1118 |
| Hotel 5* | 3830 | 2023 | 1845 | 1733 | 1680 | 1603 | 1489 | 1381 |
10% off for booking from 01 July – 31 December 2021
Kindly note:
Rates are in USD per person.

Packaged prices for minimum 1pax.

Please note for any kind of payment: bank fee is on the sender.
Tour Price Includes:
Included 09 breakfast, 09 lunches, 02 dinners & 01 dinner BBQ on Ha Long Bay Cruise.

Sharing a tourist bus and cruise in Ha Long Bay (private cabin)

All domestic flight in Vietnam.( 1. Ha Noi – Hue. 2. Da Nang – Ho Chi Minh)

English speaking Tour Guide. (01 in Hanoi, 01 Hue, 01 in Saigon.)

All airports pick up/drop off with private A/C cars.

8 nights hotel during Vietnam trip.

01 night on cruise in Ha Long Bay.

Boat in Mekong Delta – Floating market.

Transport and transfer as a tour program.

Bicycle tour in Mekong Delta.

A/c hotel room (Twin/Double share)

All of the entrances are free as mentioned.

The fruits, candy, coconut water.

Ticket for Water Puppet Show.

Meals as mentioned above.

Cooking class(on request).

Mineral water & tissue.

Life jacket, raincoat.

Luco Travel's gift.
Tour Price Excludes:
Visa & international flights in and out the country

Other services & meals than mentioned

Tips, bank transfer fee if any.
Children Policy:
Children under 05 years old are FOC.

Children from 05 - 09 years old are charged at 75% based on adult rates.

Children above 10 years old are charged at 100% based on adult rates.