Dong Ho Painting

Dong Ho Painting is a kind of Vietnamese folk painting originating in Dong Ho Village in Song Ho Commune, Thuan Thanh District, Bac Ninh Province. Dong Ho paintings have about 300 years of history in the north of Vietnam.
Dong Ho pictures are printed on a special kind of Dzo paper. The printing paper is made of bark of a tree called "Dzo". Artists use pine leave brushes to coat Dzo paper with sea bivalve mollusk powder to create a sparkling colorful background. Colors of the painting are refined from various kinds of tree leaves, which people can easily find in Vietnam. Traditional artists use all-natural colors for their pictures: burnt bamboo leaves for black, cajuput leaves for green, copper rust for blue, pine resin for amber, and crushed egg shells mixed with paste for white. The painting is covered by a layer of sticky rice paste to protect the painting and their colors. They are so long lasting, so that it is very difficult to make them dimmer even time or daylight.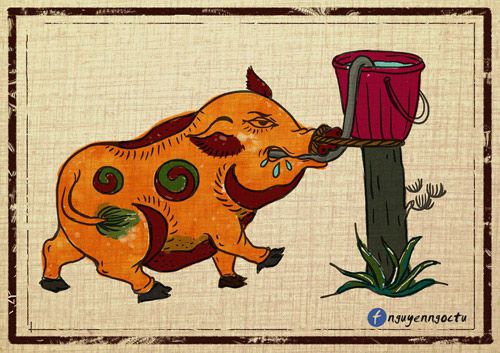 Dong Ho Painting has produced hundreds of famous works such as the romantic and humorous "Catching coconuts", "Teacher" which captures old educational practice and "Jealousy scene" satirizing the polygamous system. But the most famous ones are the pictures of pigs with Ying and Yang circles on the bodies. People in the countryside used to buy Dong Ho pictures for decoration during Tet.

In the past, December was the month households started to produce pictures for Tet. Dong Ho pictures were sold at most rural markets. Those who went shopping for Tet never failed to bring home several Dong Ho pictures, believing they would bring good luck.
Located in Bac Ninh province, around one hour drive from Hanoi city, visitors coming to this small village will have the chance to learn more about the ancient art form of woodblock printing and the unique art of making Dong Ho paintings that once had been a must-have item for decoration during Tet holidays in most households of Vietnam. For day tours visiting Dong Ho village, tourists might want to take a look at this one-day tour from Ha Noi. Or, if you are simply curious and want to take a look at some of these famous paintings, you should go visit the Vietnam Fine Art Museum: Vietnamtravellife.net