An original art of Vietnam

According to scholars specializing in portraying art, lacquer plays the first role in traditional materials in Vietnam's painting background. Opening to the world, Vietnam's lacquer paintings have got special attention because of its distinct nuance that strongly expresses national characters.
Yes, lacquer art has a centuries-old tradition in Vietnam, having first been introduced by the Chinese in the making of handicrafts and decorative items. In previous centuries, wooden statues in village's communal houses, temples, pagodas were red-lacquered and trimmed with gold. Altars, parallel sentences panels, and horizontal lacquered boards were handled by lacquering with sparkling colors.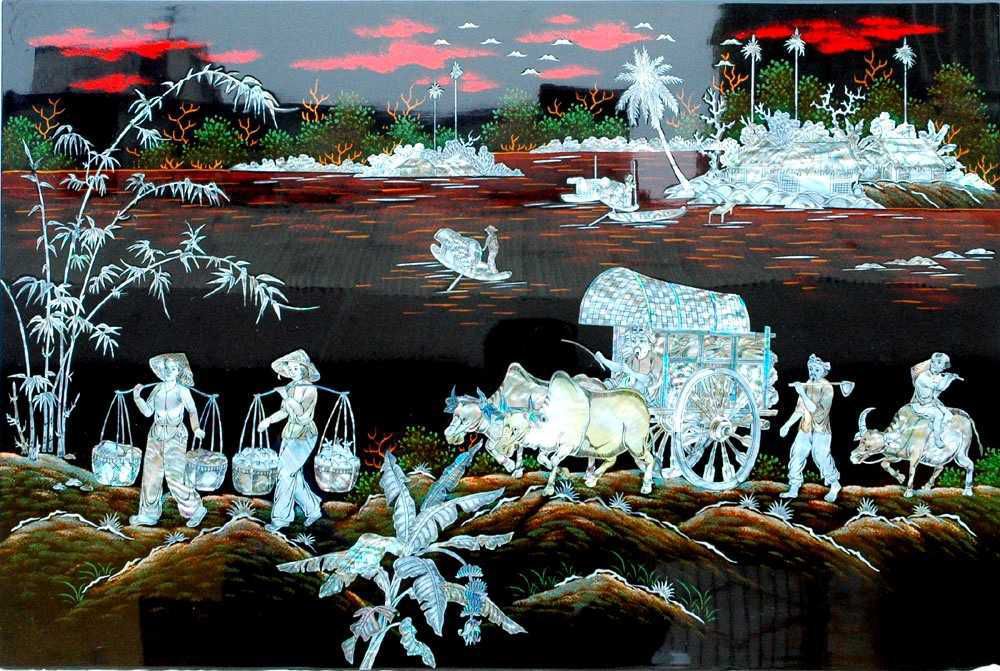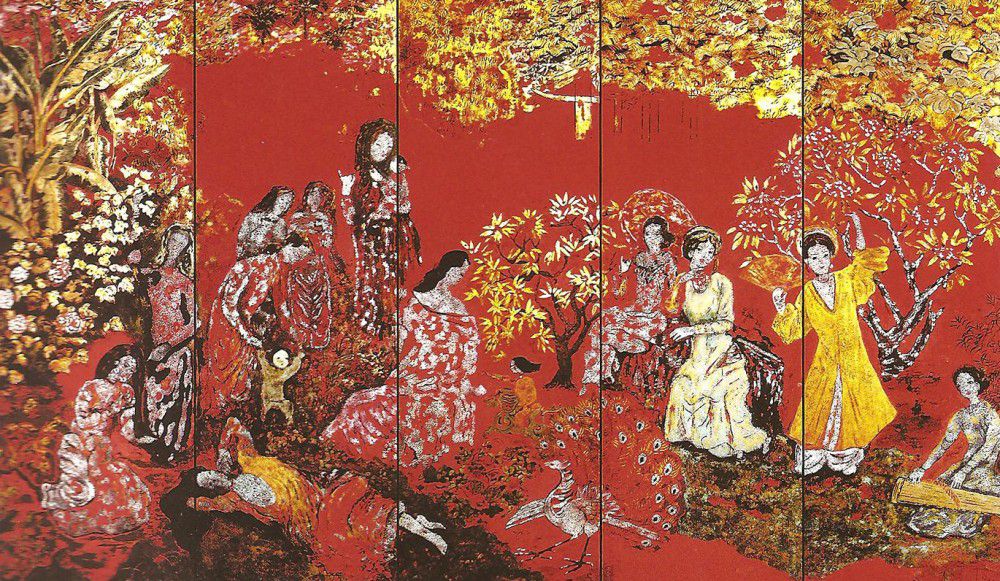 Why was lacquer painting considered as an original art of Vietnam?
After the establishment of the Ecole des Beaux Arts de l'Indochine by the French in 1925, however, that anonymous craft performance became a new art form and was applied to paintings for the first time. At that time, the founders of the Ecole, Victor Tardieu and Joseph Inguimberty, recognized the beauty of the Vietnamese artistic traditions and wanted to help their students make the most of their heritage as well as teaching them Western painting. During the 20 years of its operation, the Ecole trained more than 100 Vietnamese artists who would become the pioneers of Vietnamese modern art, combining indigenous art forms with the art of Manet, Degas, Monet, Pissarro and Renoir. The 1930s was the time when lacquer paintings and other works of fine arts confronted a great renaissance. It confirmed that the ability to express ideas and feelings of lacquer paintings is unlimited.
The lacquer and colors
Lacquer is a clear sap coming from of six species of trees growing in the North and the South Vietnam, both belonging to the family Anacardiaceae. Lacquer - a harmless substance - is harvested in the same way as rubber by making an incision and letting the sap flow. Fresh lacquer is whitish and turns brown upon exposure to air. Black lacquer stems from a chemical reaction between lacquer and iron, then, it will be mixed with various natural or artificial dyes to produce the favorable colors. Surprisingly, several shades of red are extracted from a naturally occurring red mineral, cinnabar (mercuric sulfide). White is produced from eggshell. Eggs from ducks are used because they have a better structure than hens' eggs. The eggshells are cleaned and sometimes even burned to obtain a brownish tinge.
Several other materials may be used to make lacquer paintings; the most common are gold leaf and silver leaf. Silver is used below the layers of colors to create an effect of immense luster. Gold leaf, on the other hand, is often applied as the final layer. An interesting use of gold leaf will make it appear as bright light flowing through the window. Besides, a range of other materials may also be used, such as shells, sand, epoxy and clay.
Applying colors and polishing
Painting with lacquer is a long and complex process requiring great skill and patience. It may take several months, depending on the specific technique of the artist and how many layers of lacquer are included. It involves the application of many layers of lacquer on a prepared wooden board, allowing each to dry in turn, and finally polishing the painting with pumice to reveal whatever colors the artist desires in different areas of the painting. Other materials used include eggshell to produce a white color, mother-of-pearl, gold and silver leaf. The final result is smooth and durable and will not crack due to fluctuations of temperature or humidity.
However, paintings after finishing need more time to be touched. It may be months, years, even plenty of years. The painters have to whet again and again their paintings to make them flat. Paints are drawn in many layers then can bring beautiful, occult and splendid colors. If you take notice, you can realize the capabilities and preeminence of different ones. Black lacquer is shiny, glossy and profoundly mysterious while cockroach-wing lacquer is lissome and limpid. Covering golden or silver color, the other colors can change to create derivative color bringing theatrical timbre. By coordinating ages of different-aged colors, color powders also become vaporous and radiant to finally make up sunk and floated parts of the paintings.
Many lacquer paintings and art objects of Vietnam have been brought overseas in mass. Painters, much or little, often draw lacquer paintings by sudden inspiration and following their flow of emotions. Vibration in their heart is reflected through the work without any rules or formulas. Because of those factors, the spirit in Vietnam's paintings turns to be profound.
There are some painters who have strong attachment with lacquer and have published resounding paintings such as Nguyen Sang with his work "Afternoon rest"; Tran Van Can with "Miss Thuy"; Phan Ke An with the painting "Missing one evening in North west"; To Ngoc Van and "Spending the night on roadside"; Mai Van Nam with "Going to Bac Ha market"; Nguyen Van Ty with "Thatched cottage and foot of jackfruit"; Tran Đinh Tho and "Bamboo"; and Nguyen Gia Tri with "Spring Garden", "Bailing water to prevent blood", and "The girl at hibiscus mutabilis flower".
In Vietnamese art treasure, besides lacquer paintings, there are many kinds of traditional paintings such as Dong Ho glazed paper paintings, oil-paintings, silk paintings.... Each type has its own special features that make Vietnamese people always feel proud when mentioning them with foreign friends from all over the world.
Those who are interested in Vietnamese lacquer painting might want to check out this day tour from Ha Noi to Ha Thai traditional lacquer-ware village. Located about 25 km from Hanoi, this village is where generations of families have been making lacquer ware and blowing souls into their arts. Ha Thai village is noted for its lacquer wares bearing the feelings of its creators: flexibility, complexity and variety.