SAIGON TASTE BY NIGHT
On this tour you have changes to try more than 10 dishes in Vietnam. We designed this 5 hours tour for you to enjoy a wonderful evening in Saigon. You will travel to non-tourist destinations and see the real life of local people. This four hours on the back of our own scooters will take you through districts 1, 2, 3, 4, and 10 where you will see the local's activities in the night time.
Saigon offers lots of food that you and we will never discover them all in such a short time. The food we are offering were collected after lots of research and field trips just to make sure that these are something you cannot miss during your stay!
THE ITINERARY: SAIGON TASTE BY NIGHT (D)
Our English speaking guide will meet and greet you at your hotel or your specific place at 5:30pm. You will then receive safety instructions on how to ride on the back of a bike properly in order to ensure the safest experience.
Then, you will soon whisk away on the back of their bikes in the rush hour with no problem at all to find out and taste the most special dishes offered in small alleys while learning about the history and culture significance of each dish.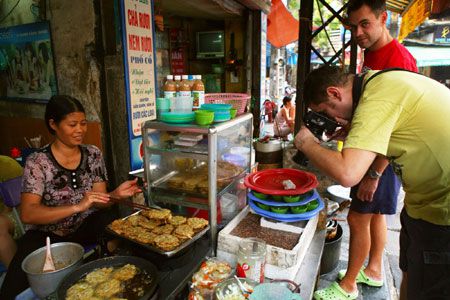 You will probably be getting full at this point. Therefore, Let's walk together to digest easily and enjoy the nightlife of Saigon where the sights that most foreign tourists never even hear about or see and we'll see what it is like to be a local. Here, you may experience some snacks that we, the Vietnamese, all fall in love with.
Next, the guides will introduce the most popular Vietnamese food traditions: "The Street Barbeque". You have a chance to fill up your stomach with the irresistible authentic local dishes which make you wish for another belly and let's drink local beer.
Before it ends, do not forget to sit down and relax with the sweet soup desserts with 3 - 5 kinds of sweet soup desserts, totally in Vietnamese style.
At around 10:00 pm, we will drive you back to your hotel and wish you a good trip in Vietnam!
This is a daily tour with limited seat available so please contact us to book as soon as possible
For all inquiries related to private tours, please contact us via info@lucotravel.com
Please Call/SMS/Viber/WhatsApp us: +84 932 998 003 for further information
| | | |
| --- | --- | --- |
| Tour Type | Quantity | Price/pax |
| Private | 1 - 3 pax | 60 USD |
| Luxury | 4 - 7 pax | 52 USD |
| Deluxe | 8 - 12 pax | 44 USD |
| Video | Add | 35 USD |
CHILDREN POLICY:
Children under 5 years old are FOC.

Children from 6 - 11 years old are charged at 75% based on adult rates.

Children above 12 years old are charged at 100% based on adult rates.
Tour Price Included:
Accident insurance

Professional English speaking guide

Free pick up and drop off at your hotel

No extra fee for group or private tour

Helmet

Raincoat

All of foods and unlimited drinks (water, soft drinks, beers)
Tour Price Excludes:
Personal expenses & Tips
Other services were not mentioned in the inclusion
Down here, it is the SAMPLE MENU but what you will have may not be the same and will NOT cover all of these. Still, we ensure with what we offer, you will be amazed!
1. Banh Mi Thit
Crispy Bread, Sliced Pork Sausages, Shredderd Pork Floss, Fresh Pate, Pickled Carrot and Cucumber.
2. Bun Bo Hue
Hue style (hot and spicy) beef rice vermicelli soup with lemongrass and pork
3. Bun Thit Nuong
Grilled pork (often shredded) and cold vermicelli noodles over a bed of greens (salad and sliced cucumber), herbs and bean sprouts. Also often includes a few chopped up egg rolls, spring onions, and shrimp. Served with roasted peanuts on top and a small bowl of mixed fish sauce
4. Hu Tieu
Chinese or Cambodian noodle soup traditionally consisting of rice noodles with pork broth
5. Pho
Noodle soup served with various cuts of beef and onions.Often eaten with basil, mint, lime, and bean sprouts
6. Banh Khot
A southern specialty consisting of small, fried rice flour pancakes
7. Banh Cuon
Rice Crepes stuffed with minced pork and dried shrimp topped with blanched bean sprouts. Served with sweet fish sauce.
8. Lau - Hot pot
Spicy sour soup with assorted vegetables, meats, and seafood
9. Barbecue
Vietnamese style barbecue with pork, beef or seafood
10. Dessert
Lots of Vietnamese sweet soups, tropical mixed fruits, and jelly
And many more of them!