Vung Tau, a favorite beach of Southern people

Vietnamese Southern people are fond of Vung Tau beach for its marvelous length and magnificent sea-view.
Location. About 125km Southeast of Ho Chi Minh City, there appears Vung Tau City, which is located in Vung Tau peninsula, the curved point of 'S' letter (map of Vietnam). This is the border of the South and the West of Vietland, where we can see the sun on the East Sea, both rising and setting.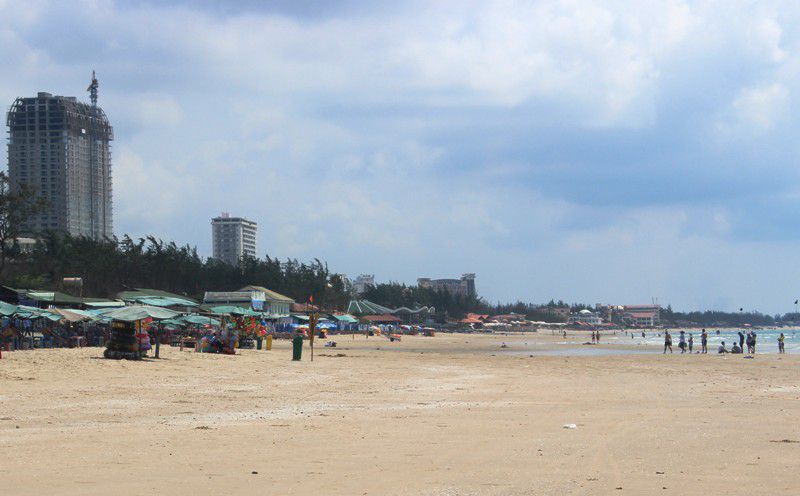 Its absorption. To most tourists, Vung Tau is most interesting and loved for its extensive beaches. Tourists always prefer sightseeing at Front Beach (Bai Truoc) to go swimming in Back Beach (Bai Sau).
The first beach is Bai Truoc (translated as "front beach" in Vietnamese), in the West of the city, where the sun goes down. Bai Truoc is considered the façade of Vung Tau city. It is also called by other names such as Tam Duong beach or Hang Dua bay. Besides the best location, the beach is also preferred for having many restaurants and elegant hotels. Sparking, colorful and bright light boulevard make Bai Truoc more beautiful.
Opposite to Bai Truoc is Bai Sau, Back beach (or Thuy Van beach). Back Beach is well-known for its over 10 km of fine sand seaside. The beach is always excited and busy with almost tourists both from the city itself and the world. At weekends or on holidays, there are thousands of people coming here for swimming and entertainment. In Bai Sau, there is a popular kind of entertainment: Paradis, the upgraded swimming and relaxing area, and a system of modern hotels, welcoming all tourists. Other beautiful beaches are Bai Dua and Bai Dau.
From Bai Truoc, Halong street curls to Bai Dua, pineapple beach. The reason for placing that name dated a long time ago, when the beach had many pineapple trees, thus it was called Bai Dua (or Pineapple garden). Many Vung Tau people also call the beach Lang Du, which originated from the local's first restaurant's name.
Right in here, the sea goes far into the land and the rock mountain goes from the land to the sea establishing romantic and hidden small beaches. The beach attracts a big amount of tourists. Nearby, the Temple of Southern sea Saint and Tinh Xa nirvana are tourist-attractive sites, which were built on one of these rock mountains.
Bai Dau, Mudberry Beach, is at the foot of Nui Lon, in the North of the city. There used to be a lot of mudberry and ratten so it is also named Ratten beach. Nevertheless, today, there is no longer any mudberry and ratten. So now, instead, when mentioning about Bai Dau, people think of a windless and rocky beach. Tourists should walk on about a few meters to see a 30m-high statue of Mother Maria shining in the green picturesque forest and sea landscape.
As not so far from Ho Chi Minh City, Vung Tau is a favorite resort & entertainment destination for those who wish to hide away from the busy city and entertain themselves in a real way.