Nha nhac (the Royal Refined Music) of Hue
On 7th, November 2003, the Royal Refined Vietnam has ever Music was proclaimed by UNESCO as a Masterpiece of the Oral and Intangible Heritage of Humanity, the first title of this kind received
The UNESCO Council appraised Vietnamese royal music in the following terms: "Vietnamese royal music represents an elegant and refined music. It deals with the music performed in the imperial courts and on different anniversaries, religious festivals, and on such particular occasions. Of the different categories developed in Vietnam, only the royal music was national."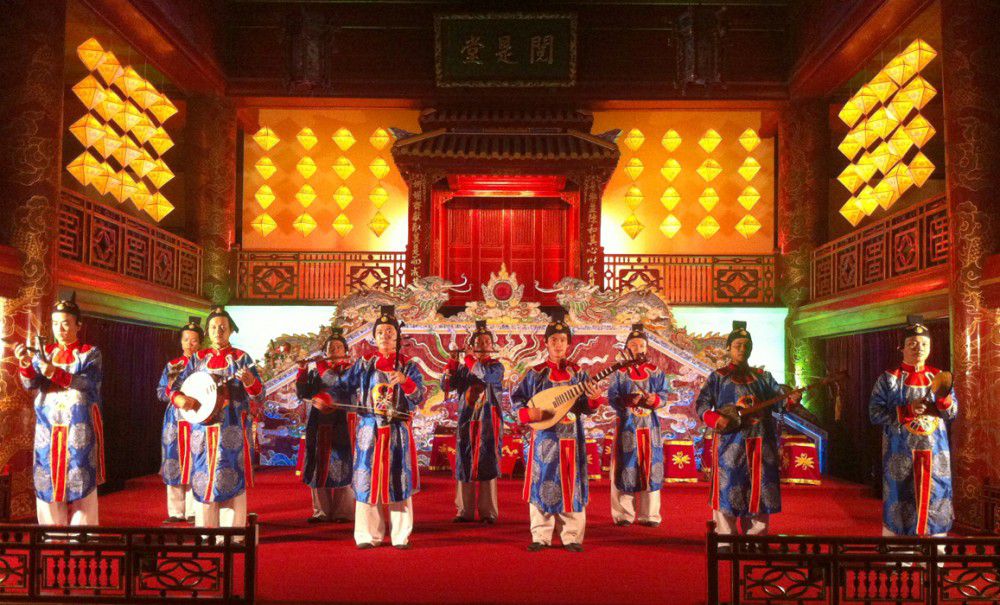 The Royal Refined Music was first introduced in the 13th century, but only reached its peak under the Nguyen Dynasty. The Royal Refined Music had long enjoyed a preference as an official form of royal music. It was recognized as the symbol of a powerful and long-lasting monarchy and as an indispensable part of all ceremonies. Each year, the Royal Refined Music was played in nearly 100 different ceremonies.

Varied in its themes, the Royal Refined Music is considered a means of communication to express the respect to gods and kings.

Compared to other forms of art, the Royal Refined Music boasted high artistic value, first and foremost because the court had enough political power and finance to bring together talented composers and players from around the country. Given favourable conditions to practice and improve performance skills, they became professional artists in composing and performance.
After being recognized as a Masterpiece of the Oral and Intangible Heritage of Humanity, the Royal Refined Music performances have been held in France and Belgium, etc. and was highly valued by the audience and art-culture researchers./.
Royal refined music and royal meal are two highlights in Hue that visitors should experience to get a full view at how the royal life was under Nguyen dynasty. It is said that King Tu Duc who ruled from 1848 to 1883 lived a life of truly imperial luxury: at every meal, 50 chefs prepared 50 dishes served by 50 servants and 50 artists to play music and dance. Then, Royal meal became a kind of special talk (story) in cultural life of Vietnam. Those who want to try these royal dishes might want to take a look at this Royal meal tour offered by CityInsight.vn. The tour last for around 2.5 hours only and promise to be an enjoyable experience for tourists. More tours details here.