Whale Island Resort, unique in Vietnam...

White sand beaches, transparent water, coral reefs and coconut trees underline the tropical exoticism, you can discover Whale Island Resort by cruising in the area.
The resort is located 80 kms North of Nha Trang at the tip of an archipelago. It is absolute paradise – an ideal place for resting and enjoying many beautiful sights and relics of Whale Island. Coming to Whale Island Resort, you will learn about the fishing work of the inhabitants, the habits and customs of minority living in Van Phong Bay. Moreover, you can conceive vacations as relaxation and conviviality.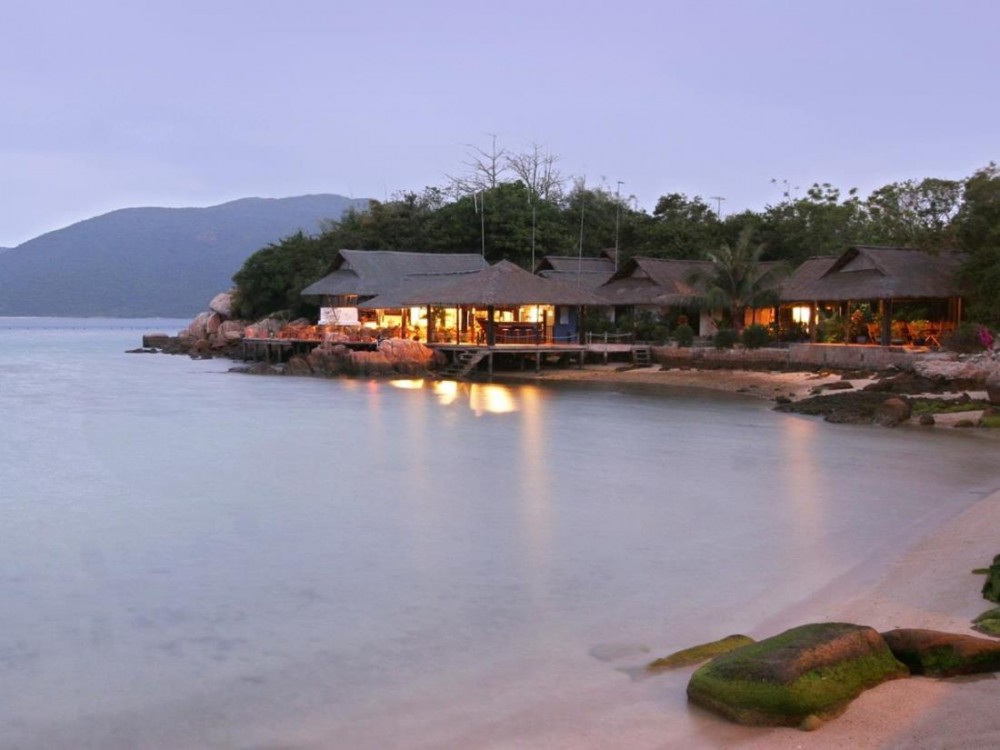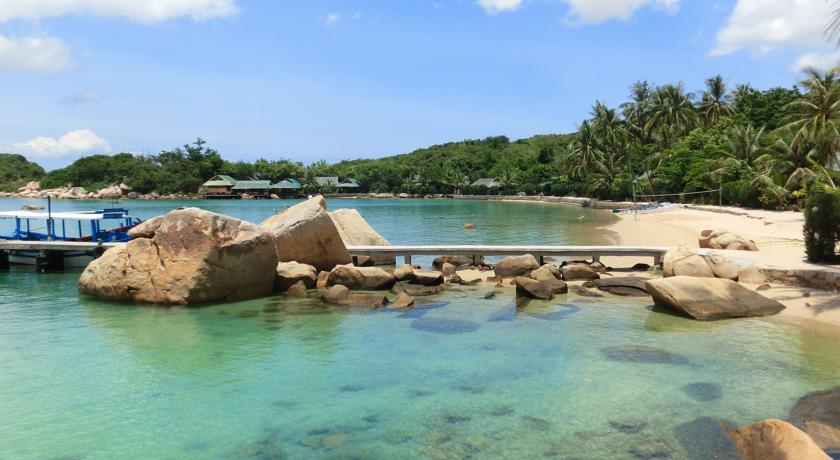 For entertainment, you can play some fantastic water sports such as: Catamaran, Windsurf, diving, or snorkeling to discover diverse coral reefs and marine life in turquoise sea. After wonderful time of exploiting the ocean, you can walk along the beach of soft white sand and coconut trees or climb the mountain to watch lovely animals living in Whale Island's forest. Especially, you will stay in very nice bungalows along the beach, have meals with Vietnamese and seafood specialties while seeing some whales.
The distinguished...
One of good point at Whale Island is definitely in its underwater landscape. Vietnam starts to be a diving destination. The diving is practically to conduct from January 15 to October 15 annually. The diversity of the coral as well as the other components of submarine fauna like nudibranches contribute to the reputation of the resort. Some reefs are accessible only with palms, masks and tubas. This sites permits to some beginners to familiarize themselves with the submarine motricity in all security for them self and the fauna & flora that they will be able to admire.
There is a pleasant bamboo restaurant serving a limited mixture of Vietnamese and international cuisine with a decent wine list. Catering standards are high, but expect plenty of seafood as all other provisions have to be transported from Nha Trang. A bar on a rocky promontory serves drinks at sensible prices, and an adjacent lounge and terrace overlooking the sea has billiard tables and other indoor pastimes.
The unique is that Whale Island Resort is in the middle of no where, is an ideal place to escape from the hustle & bustle of city life. It is here that you just hear the sound of ocean and wild life. Its pristine transparent water and offshore corral reef is great to go for swimming, snorkerling or scuba diving.
If you are looking for peace and quiet on an isolated tropical island with comfortable accommodation, good food and enough things to do to avoid boredom, there are so many good reasons to join us on Whale Island Resort! A relaxed time, rejuvenating holiday is awaiting...
Along with the well-known beaches, the islands around the area has also become one of the most popular attractions in Nha Trang. Taking a cruise to these less crowded Nha Trang Islands might be a good idea for a Nha Trang day tour as it take you away from the pretty crowded beaches and bustling city life.