Dong Ba Market – one of the romantic Hue's symbols
if you are in Hue, the poetic ancient citadel of Vietnam, one among the sites that you should really pay a visit is

Dong Ba Market, the significant place of interest inside the city.
What consists in the attraction towards this market is the preservation of ancient distinctiveness. Tourists can see all the typical features of a traditional Vietnamese market, for example, the sampan landing, the bus station and the bazaars. Dong Ba market is considered as a paradise for snapshots of daily activities as well as for shopping with everything from souvenir items to bronze goods, Hue sesame sweetmeat, conical poem hats, just to name a few. Should you find interest in Vietnamese food or culture, you'd better come to explore this place.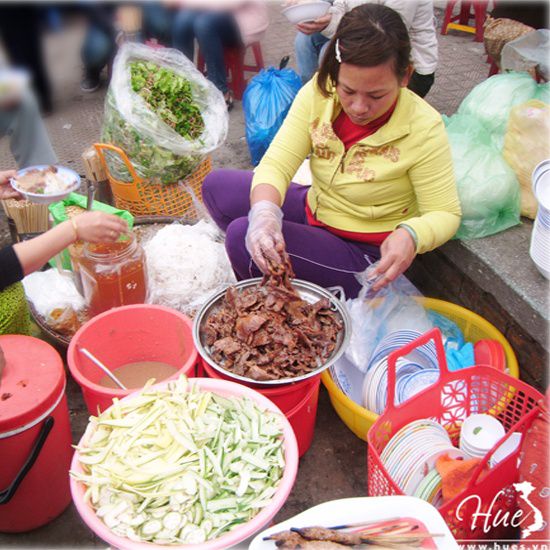 Location. Just imagine that you are roaming around this food market, you may find your visit to this city to be added with new colors. Around 100 kilometers north of Truong Tien Bridge, Dong Ba Market is situated near the eastern corner of the Citadel, in the north bank of the romantic Perfume River, near the place where the Dong Ba Canal merges with the Perfume River.
Story of naming and location. Tourists may be confused when they find several things here named "Dong Ba" in Hue city. Actually, Dong Ba is both the name of the largest market in Hue and of a small canal connecting the market with the busy river port of Bao Vinh, Lo Street and Thanh Ha. Dong Ba is also the name of the first steel bridge across the Dong Ba River and Dong Ba Street. The market was originally located outside the citadel's Chanh Dong Gate (also commonly called Dong Ba), where today stands a park at the end of Phan Dang Luu Street. The market was burnt down in the summer of 1885. In 1887, King Dong Khanh had it rebuilt and named it Dong Ba. In 1889, King Thanh Thai had it moved to the current location at the crossroads of the Huong (Perfume) River and the west bank of the Dong Ba Canal. Due to the convenient location, the market has always been very popular. In 1987, the market was under its greatest restoration, in which it was enlarged into a total area of 47,614 m2 with 9 ranges of sales houses, car parking place, motorcycles, bicycles shedding station, and so forth.
Dong Ba - the largest market in Thua Thien-Hue. You are eager for purchasing craft products as Hue's gifts for your dearests and fearest? Well, Dong Ba market is the right place to spend your precious time in this city. Not only being a largest-sized market in the past, Dong Ba market retains its role till now. It has always been providing "stage" for the traditional crafts in Hue, and sells to all those who are fond of; examples are Phu Cam conical hats, Hien Luong scissors, bronze articles of the Duc guild, Phuoc Tich pottery, Bao La rattan and bamboo products, Ke Mon jewelry, Nam Thuan sweets, Tuan tea, Huong Can mandarins, Luong Quan-Nguyet Bieu pomelos, and Tinh Tarn lotus.
Besides, for those who are interested in Southeast Asian food, the market supplies a lot during daytime, such as clam rice, beef noodles, shrimp cakes, pancakes, bean puddings, sour shrimps, and My Lai shredded lean meat, which are popular Hue's daily dishes. If you stay here on the occasion of the Lunar New Year, you can share the custom of the locals by buying "five-color" cakes, which are small & square cakes made of bean and rice powder. The name "five-color" derives from the cakes' 5 colors of wrapping papers. When biting the cake, you can feel that it seems to immediately melt in the mouth, which is of uniqueness of Hue's specialty. Hence, it's advised that you try these as much as possible during your time in Hue, or else you will miss them so much after coming back to your country!
Cultural values. Today, people visit Dong Ba Market not only because they can buy myriad goods and local specialties, but because in their hearts it is a symbol of Hue's culture. What was the most delicate material cultural traits of the city can be found here in the local traditional products, like Phu Cam conical hat, Hien Luong scissors, etc., and the mentioned delicious specialties, such as mussel rice, rice noodle with beef, leaf cake, shrimp springroll, khoai cake, dau van pudding, etc. that people could not help tasting!
Though a series of new market have emerged ubiquitiously inside the fast-growing Hue City, and one no longer has to go far for shopping, Dong Ba remains the biggest and most significant market in both Hue and Central Vietnam. Tourists coming here may not be able to get out soon since they are so much absorbed by the interesting Hue's typical goods!
If you travel to Hue city, whether going on your own or booking a Hue city tour, do not miss out on exploring Dong Ba Market. There, you can shop for local goods, try many dishes that are specialties of this city as well as Central Vietnam, while getting snapshots of daily activities typical for locals.