Spectacular Tien Son Cave

Tien Son Cave belongs to Phong Nha - Ke Bang tourist complex that comprises natural beauty-spots in central province of Quang Binh. The site is now on the list to be recommended to UNESCO for recognition as a World Heritage Site.
Originally called Dry Cave, Tien Son Cave was discovered in April 1935 in the limestone mountain of Ke Bang. The Phong Nha - Ke Bang Caves consist of the Phong Nha Cave system, with 9 caves of various sizes and the Vom Cave system, with 8 caves of various sizes. Of which, spectacular Tien Son Cave is the most magnificent limestone cave in Vietnam and just opened in 2000. It is about 400 metres away from the famous Phong Nha Grotto and at a height of 135 metres.
Tien Son Cave is more than 980 metres long. Going into the cave for about 400m, you will see an abyss, about 10m deep. Then comes another part of the cave, about 500m long, which is rather dangerous for walking. At present, nearly 400m of the cave have been installed with lighting system to make it safe for visitors.
The Cave looks marvelous inside with hundreds of stalagmites and stalactites of different sizes and shapes. Some look like a man or an animal, and there is one that looks like the Leaning Tower of Pisa in Italy. On the cave ceiling, there are glittering gold and silver-like veins. Some stalagmites produce an echoing sound when slightly knocked.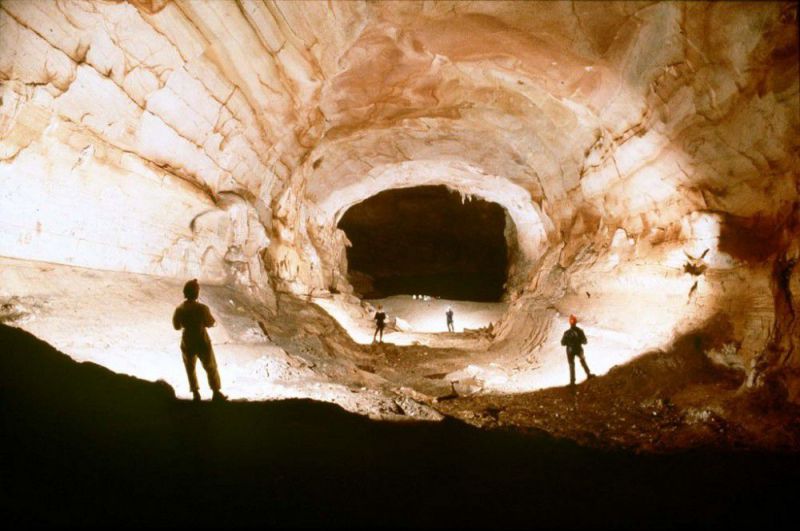 Limber Howard, Chief of the British Royal Team of Cave Researchers, who visited and made studies of the site, said that Tien Son cave may have been formed tens of millions of years ago. A river ran through the limestone mountain and eroded it. Then, huge rocks fell, separated the mountain and formed the cave. An underground river ran through the lower part of the mountain, creating Phong Nha Grotto. Thus, Tien Son Cave is older than Phong Nha Grotto and they do not link with each other. Geographical tectonics in Tien Son Cave are rather stable, so the cave is safe for visitors.
At the present, Phong Nha and Tien Son cave always open to welcome to visitors to discover marvelous beauty and hidden values here