Phong Nha-Ke Bang, National Park – a fabulous Heaven Land

The Nature has awarded Vietnam a fabulous Wonder with grandiose green tropical jungles, nice & mysterious caves & grottoes, and the Asia's oldest limestone mountains.., that is, Phong Nha-Ke Bang National Park
Geographical Location
Phong Nha - Ke Bang (or Vườn quốc gia Phong Nha-Kẻ Bàng in Vietnamese) is a huge national park located in Bo Trach and Minh Hoa Districts of central Quang Binh Province, in north-central Vietnam. The National Park is about 500 kilometers south of the nation's capital, Hanoi. The park was created to protect one of the world's two largest karst regions with around 300 caves and grottoes, and the ecosystem of limestone forest of the Annamite Range. The core zone of this national park covers 85,754 hectares, which are divided into three zones, a "strictly protected zone" (64,894 km²), an "ecological recovery zone" (17,449 km²), and an "administrative service zone" (3,411 km²). The plateau is probably one of the finest and most distinctive examples of a complex karst landform in Southeast Asia.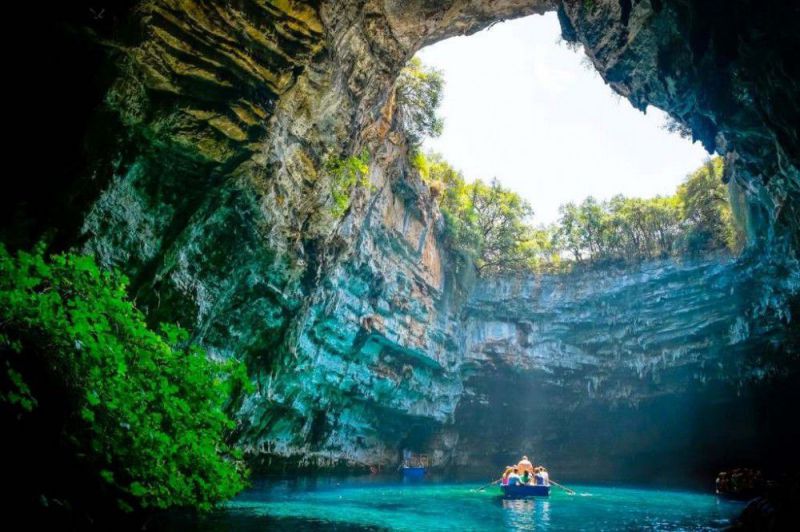 Climate
Like the North-central (or Bac Trung Bo) in general and Quang Binh Province in particular, the climate in this national park is tropical, hot, and humid. The annual mean temperature is 23 to 25°C, with a maximum of 41°C in the summer and a minimum of 6°C in the winter. Annual rainfall is 2,000 mm to 2,500 mm, and 88% of the rainfall is from July to December. With more than 160 rainy days per year, no month is without rain. Mean annual relative humidity is 84%. The typical tropical climate has helped build up a pure atmosphere of the green ecological environment, ideal for any visitor.
Formation History
Formation: The Phong Nha–Ke Bang karst has evolved since the Paleozoic (some 400 million years ago) and so is the oldest major karst area in Asia. Like much of Vietnam, it has been subject to extensive tectonic changes, thus the limestones of Phong Nha are inter-bedded with a number of other rocks. There is also strong evidence that sulphurous solution and hydrothermal action have played an important role in shaping the broad-scale landscape and the caves.
Historical name: The park deprives it name from Phong Nha cave, the most beautiful of all, containing many fascinating rock formations, and Ke Bang forest. One has explained that Phong Nha means "Wind and teeth" based on Chinese transcription, which expresses the blowing wind inside the cave and teeth-like rough stalagtites. There have been several other ways of explanation, yet none is more popular than this.
People now flock to this National Park for contemplating the UNESCO-recognized world natural beauty, and also for directly witnessing the fabulous rock formations inside the caves.
A nature-gifted magnificient landscape: 7 best in one
Phong Nha-Ke Bang park takes pride in the assessment of containing "7 best things" as a result of a National Science Conference held in Quang Binh in April, 1997. They are:
1. The longest water cave
2. The highest and widest cave mouth
3. The widest and most beautiful sand & rock bank
4. The most beautiful underground lake
5. The most magnificient and miraculous stalactite
6. The nation's longest underground river (around 13,969 m)
7. The nicest and widest dry cave
It is certain that when one goes on a bout around this beautifully miraculous zone, he may be surprised and feel that he were lost in somewhere in the Heaven where he does not want to leave at all! So now let's take a round trip to try this fabulous feeling!
Let's tour!
Rivers & Streams
Phong Nha is such a beautiful landscape that you may have to hold your breath on contemplating. Here are the charming Son and Chay Rivers, (the two longest underground ones in the Phong Nha-Ke Bang), gently flowing in the middle of the two sides' reed and green bamboo rows. Most of the caves here have been shaped by those two rivers. The Son River flows into the mouth of the Phong Nha cave, which is the only point where it emerges in around 20 kilometeres. Also, there are more than ten spectacular streams, springs and waterfalls in Phong Nha-Ke Bang area, namely Gió waterfall, Madame Loan & Chài waterfall, Mọc stream erupting from a limestone mount range, and Trạ Ang stream. Far far away can you see the enchanting pure Bong Lai Lake and Chai waterfall, adorned with a number of dark violet "bằng lăng" flower baskets blooming in the warm weather. Some tourists ever uttered: "Wow! Heaven!" since the scenery is so much romantic and marvellous!
The Park also contains two dozens of mighty limestone mountains with over 1,000 m in height. Some of the most noteworthy peaks are the Co Rilata Peak with the height of 1,128 m and the Co Preu Peak with a height of 1,213 m. Non-karstic topograhical area accounts for a low percentage, distributing mainly in outer circle of limestone in the north, northeast and southeast of this national park. The height of these summits varies from 500-1000 m with the deep divisions. The grandiosity and uniqueness of the limestone mountain ranges that only can be found in Phong Nha-Ke Bang is of great attraction to tourists.
It's now time to explore the zone in its rich Flora-Fauna composition. The Ke Bang primary jungles have been home to 98 families, 256 genera and 381 species of vertebrates, many of which are listed in the Vietnam and World's Red Book. If you are bold enough, you can go further into jungles to see by yourself these lively rare animals, Gecko, Macaque, White-cheeked Crested Gibbon, Hatinh and Black Lagur, Mainland Serow, Giant Muntjac, Saola, Bear, Bull, and so forth. Watching them closely and directly is somehow thrilling but extremely interesting!
Besides, for those fond of plants, it's good news that the tropical jungles have a huge number of tropical trees, grass, bush on limestone rocks and soil mounts, sindora trees, rattan and bamboo forest, and the nation's greatest Calocedrus rupestris. It has 140 families, 427 genera, and 751 species of vascular plants, of which 36 species are listed in the Vietnam's Red Data Book.
Penetrating to a distance of 1,500 m inside Phong Nha Cave, tourists may go from surprise to surprise! Phong Nha - Kẻ Bàng is also named "Kingdom of Caves". Up to now, there are more than 300 caves that have been discovered, and still continuously shaped by the Chay River. The Son River flows into the mouth of the cave and keeps flowing underground, where it is referred to as the Nam Aki River. The main Phong Nha cave comprises 14 chambers, connected by an underwater river that runs for 1.5km. Notable caves and grottos of Phong Nha are Phong Nha Cave (Hang Phong Nha), Dark Grotto (Hang Tối), E Grotto (Hang E), Cha An Grotto (Hang Chà An), Thung Grotto (Hang Thung), En Grotto (Hang Én), Khe Tien Grotto (Hang Khe Tiên), Khe Ry Grotto (Hang Khe Ry), and Khe Thi Grotto (Hang Khe Thi). The most famous one is Phong Nha cave, which has been considered as "First-ranking Cave Wonder" for its world's most beautiful stalactites and longest rivers by the Brishtish Royal Geography Association. Sitting on your boat along the Son River into the Cave, listening to the wind whistling as if in a Cathedral, you may be unable to return! As you get farther into the cave, the more illusory the stalactites and stalagmites look as they glitter when bright light is shone on them. Here you can contemplate the splendid landscape of the ancient huge teeth-like stalactites falling and stalagmites roughly rising. The stalactite brilliant light stretches throughout the cave as a beautiful silk full of colors.
Each of the cave contains its own mysterious and miraculous secrets of the eternal dark Caves, stimulating and absorbing tourists to come and discover by themselves!
World recognition
Honorably recognized to be the World Heritage Site by UNESCO in 2003, Phong Nha-Ke Bang National Park has brought in a great pride for not only the locals but also all the Vietnamese. The reason for being recognized is that it meets criteria viii "outstanding geological, geomorphical, and geographical values". This year, Phong Nha-Ke Bang National Park has submitted to UNESCO second time for recognition as a world natural heritage for biodiversity.
Besides, in the "7 New World Natural Wonders" voting, Phong Nha-Ke Bang has been one among 3 sites of Vietnam (together with Ha Long Bay and Fanxipan) to be in the candidate list. Though the final results are to be given at the end of the year, in the announcement of the New7Wonders at 6 a.m on February 22nd, 2008 (Vietnamese time), Phong Nha-Ke Bang was ranked second (to Ha Long Bay) in the list of 77 world natural wonders. Ever since the significant moment of being on this list, the National Park has attracted a much greater number of visitors from all over the world!
How to get there?
If you are in Hanoi, the best way to get to the site is by train, the Thong Nhat one. After arrival at Dong Hoi station, you could travel by road or by sea. Both are easy to use, yet the latter could bring you the realistic understanding of a riverside life.
Tourist activities
- Tour for expedition of caves and grottos in boats and with professional cave expedition means.
- Ecotourism, discovering the flora and fauna in this national park in the Ke Bang Forest.
- Mountain climbing: There are extreme sloping mountains here with a height of over 1,000m, which is a real challenge for adventurous climbers.