Cua Lo Beach with the picturesque beauty

Situated in Nghe An Province, on the shore of the East Sea with the Cua Lo estuary in the north and the Cua Hoi estuary in the south, Cua Lo Beach is one of the nicest beaches in North Vietnam with its white sand and clear blue water.
Recognised as one of Viet Nam's most beautiful beaches by the World Tourism Organisation, Cua Lo is defined by its natural assets: Cua (estuary), because the Lam River empties into the sea to create a shallow and clear shore, and Lo (jutting), after Lan Chau Island, a long strip that spears the north-east corner of the bay. In the summer, winds from the west mix with sea currents to wield two seasons in a day. The beach becomes packed with tourists during the summer high season.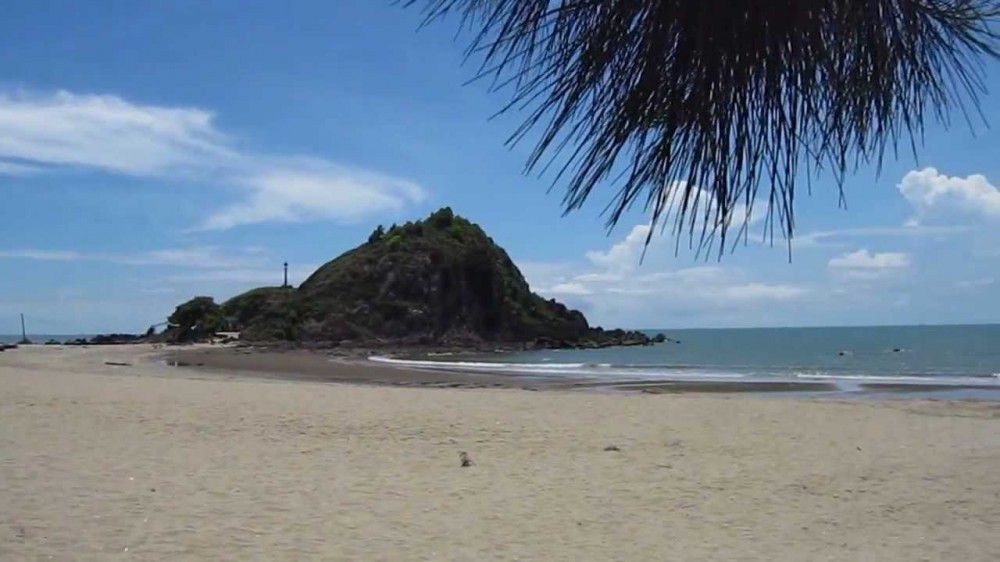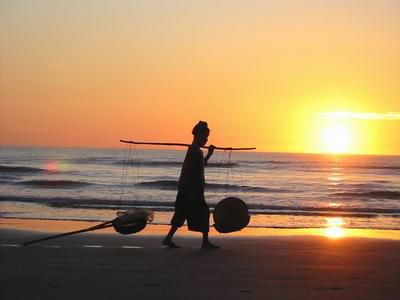 The picturesque beauty...
Just 18km from Vinh, a busy border crossing with Laos, Cua Lo, an up-and-coming coastal resort in central Nghe An Province, is luring domestic travellers from both the north and south. Stretching over 10km, Cua Lo Beach is well known for its smooth sands and sparkling, salty seawater. More and more tourists are coming to the beautiful beach with rows of casuarina and coconut trees. The seawater at Cua Lo is clean and highly salted. Cua Lo is one of the best beaches in Vietnam. Not far from the beach are 3 islands: Hon Ngu, Hon Chu, and Hon Mat with natural and primitive landscape which is very attractive to visitors.
Cua Lo is also famous for its beautiful islands such as Lan Chau, north of Cua Lo, and Song Ngu to the southeast. These two islands protect Cua Lo Beach from heavy storms and strong winds coming in from the East Sea. 20km from the beach, the Quynh Nhai Island group is made up of many smaller, picturesque islands. Beachside boat operators service trips to both islands, both of which take about 10 minutes one-way.
Nowadays in Cua Lo, a number of rest houses and hotels, and the modern services system is constructed to meet the need of the travelers. The town's main drag – Binh Minh Street – runs along the beach for 10km. With hotels on one side and a natural casuarina forest on the other, the road remains shady all day. Both sides are under the careful watch of local authorities. The forest serves as a natural barrier against beach erosion, and provide a cool cover for sun-soaked tourists. In an effort to preserve Cua Lo's natural beauty, hotels must be low and stilt houses peak out from behind the tree trunks.
To reach Cua Lo, you can go by ship, train or car. You can take a yacht to go on the Lam River to reach Giang Dinh and visit the homeland of great poet Nguyen Du. In Cua Lo, you can also contemplate the scenery of Hong Linh mountain, visit the tomb of Mai Hac De and Kim Lien village - the motherland of President Ho Chi Minh. Once in Cua Lo, you can visit the islands by boat, climb the mountains, dive, and visit historical and literary sites such as the temple in honor of Nguyen Xi in Nghi Hop Commune, the Trung Kien Pagoda in Nghi Thiet Commune, and the Hoang Van family altar in Cua Lo. From Cua Lo, you can go about 2km west to reach historical and cultural relics that are of special architectural styles. Those include the temple worshipping Nguyen Xi - a talented commander of King Le Loi, the temple worshipping mandarin Nguyen Su Hoi, the Dao Ngu pagoda, and many beautiful places like Quan Tung mountain.
Eye the future path...
Founded in 1994, the town of Cua Lo has developed rapidly to house visitors. The town now has modern infrastructure and transportation systems, and many entertainment and tourist resorts and hotels. Cua Lo always has a festival on May 1 to welcome the first tourists to the beach for the summer holiday. At the festival, tourists can take part in traditional games and tournaments.
"Cua Lo was Nghe An Province's fastest growing locality last year. Local authorities are drafting plans to expand tourism facilities and services to lure more tourists," said Mr. Ho Duc Phoc - current chairman of Cua Lo People's Committee. Also, four large-scale tourism projects are in the works: a tourism, commerce, and sport complex, slated to open next year; an ethnic cultural village and a children's park, which are both still in the planning stages; and a night market in Cua Lo's Nghi Huong Village, will be set up soon.
Cua Lo marks its 10th birthday in August 2008, Nghe An province opened the town's biggest ever tourism event with a view to turning Cua Lo into a typical sea travel centre of the central region. To diversify tourism products, Cua Lo town is trying its best to become a centre linking tours and cultural-historical sites of Nghe An Province with other neighbouring provinces such as Ha Tinh, Thanh Hoa and Quang Binh. The town has set up a centre introducing and selling tourism products and a centre giving consultancy to tourists so that tourists can visit places of interest and landscapes in Nghe An in the quickest way.
In terms of security and safety for tourists, the Cua Lo town has built a warning system for tourists and a rescue centre, including excellent swimmers. High-speed boats have also been bought to serve tourists.
With such efforts, the Cua Lo town is able to meet the needs of a large number of tourists during the upcoming summers and bring comfortable and relaxed days to tourists.
It is worthy of saying that Cua Lo has gone from a sleepy beach town to a summer hot spot, pairing seaside activities with eco-adventures.